After spotless outing, Janssen ready to challenge arm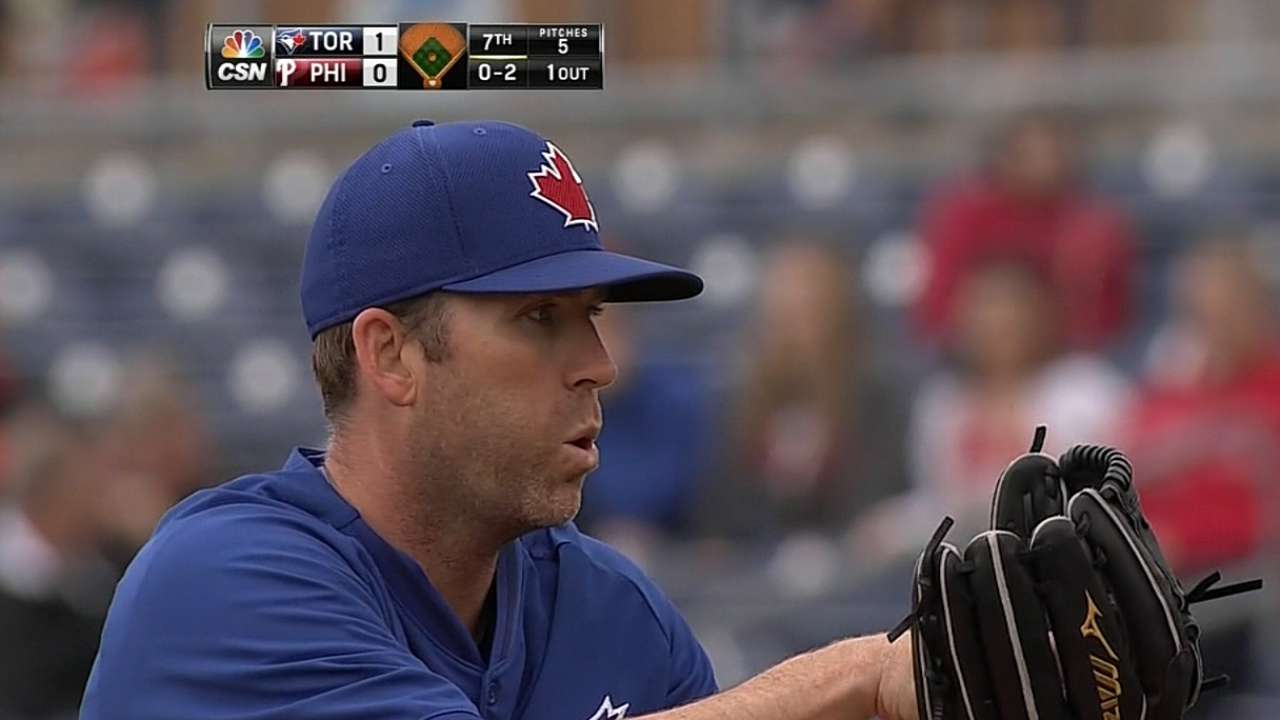 CLEARWATER, Fla. -- Casey Janssen needed just seven pitches to get through his one inning of work against the Phillies on Thursday afternoon.
Janssen struck out Ryan Howard and Clete Thomas on just three pitches each before getting Koyie Hill on a grounder to first base. It was a rather effortless outing for the veteran right-hander who is still working his way back from a shoulder injury.
Toronto's closer is expected to pitch again on Friday night in what will be his first outing on back-to-back days this spring. That will be his final test before the start of the regular season.
"I think I'm headed in the right direction," said Janssen, who had 34 saves in 36 opportunities last season. "I don't anticipate too much soreness tomorrow, but you never know. Hopefully, have a nice inning tomorrow, not have too much soreness, prove that I can do a back-to-back and get another inning under my belt. Hopefully the gloves are off and they can just treat me like one of the guys."
There wasn't a radar gun on display at Bright House Field on Thursday afternoon, so it wasn't immediately clear just how hard Janssen was throwing. During an outing earlier this week, he was hitting just 86 mph, but typically finds himself averaging somewhere around the 90-mph mark.
More information on that will become available when Janssen takes the mound at Olympic Stadium in Montreal on Friday night. It also will be a measure of just how strong his arm is without pitching on at least one full day of rest.
The situation Janssen currently faces is very similar to the one he went through prior to the 2013 season. Janssen made just three appearances last spring, but managed to break camp with the team and went on to enjoy one of his best seasons in the Major Leagues. The hope is that this year will be similar, but an added sign of encouragement is that there's less discomfort this time around.
"Last year there was a lot more discomfort," Janssen said. "This, once it passed, it's kind of just get yourself amped up and get ready. The only thing for me is that I haven't challenged the arm like a game, so I'm continuing to do that, and obviously what comes with that is hopefully some velocity, intensity level, juices pumping and everything like that. I'm sure once the bright lights come on and we're in [St. Petersburg for Opening Day], everything is going to work out and we'll be alright."
Gregor Chisholm is a reporter for MLB.com. Read his blog, North of the Border, and follow him on Twitter @gregorMLB. This story was not subject to the approval of Major League Baseball or its clubs.