Gose enjoys stellar return against Royals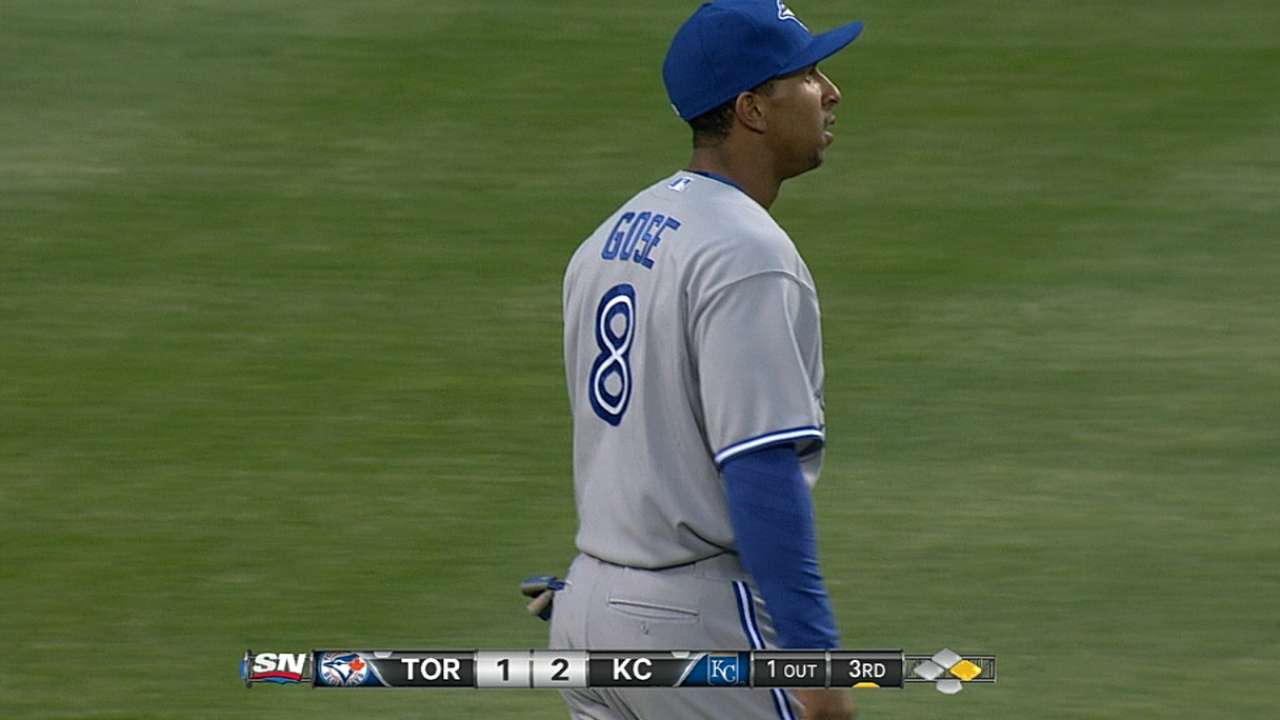 KANSAS CITY -- Anthony Gose doesn't know what his sudden promotion to the Blue Jays from Triple-A Buffalo will mean over the long haul. But for now, Gose is just glad that he has at least temporarily escaped the cold Buffalo weather and gets another opportunity to make an impression at the Major League level.
With Melky Cabrera nursing a left knee contusion after being struck by a Danny Duffy pitch on Wednesday, Gose gives manager John Gibbons some flexibility with his outfield personnel. Gose was in the lineup on Thursday in left field and batting ninth against the Royals.
It was an impressive first night back for Gose, who went 2-for-4 with a two-run double in the Blue Jays' 7-3 win. Gose also showed excellent range in left field and threw out Eric Hosmer trying to score from second on a single in the third inning.
Gose was hitting .235 at Buffalo with a .350 on-base percentage thanks to 12 walks. He also had four steals. In 2012, Gose hit .223 for the Blue Jays in 56 games. Last year, he appeared in 52 games for Toronto and hit .259.
Because of previous stints with the Blue Jays, Gose is hopeful he can draw on that experience whenever he sees his name in the lineup.
"I've learned a lot, especially offensively," Gose said. "I don't know if this time is any different than last time, because I don't know what this time is. If you have a hole in your swing up here, the pitchers are going to expose it. You better figure it out soon or else you're going to be back down freezing in Buffalo."
Gibbons said that with Gose or any other player, the ability to stick in the Majors simply comes down to producing in a timely manner.
"There has to be an opportunity and when you get it, you have to take advantage of it," Gibbons said. "We've got our three guys in the outfield, but [Gose] could fit in as the fourth guy. We know he's good on the bases and can play some defense. But it's all about production. That's why it's so hard to make it in the big leagues and stay for any length of time."
Robert Falkoff is a contributor to MLB.com. This story was not subject to the approval of Major League Baseball or its clubs.