Stroman makes bullpen debut for Blue Jays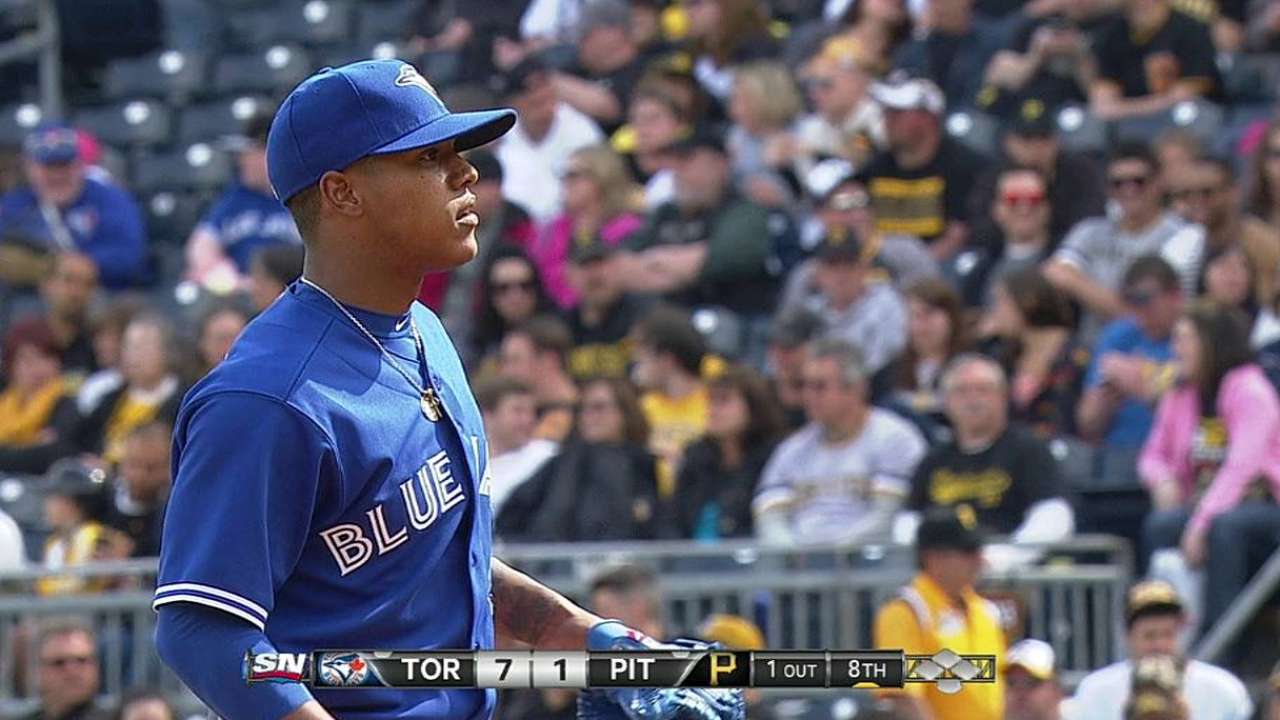 PITTSBURGH -- The future is now for Marcus Stroman after the Blue Jays prospect made his Major League debut on Sunday afternoon in Pittsburgh.
Stroman was officially promoted from Triple-A Buffalo prior to Sunday's 7-2 victory over the Pirates, and he did not have to wait long before getting in some work. He came on in relief of starter Dustin McGowan and was asked to pitch the eighth inning of a 7-1 ballgame.
That capped a whirlwind 24 hours for Stroman, who got word of his promotion late Saturday night and then made the drive of three and a half hours from Buffalo to Pittsburgh on Sunday morning.
"So amped up, tired, so many different things going through your body at once, but once I got out there I felt fine, and I had a good time," said Stroman, who acknowledged that he barely slept the night before in anticipation of his debut. "I didn't execute like I wanted to, but it was good to get it out of the way."
Stroman ended up allowing a run on one hit, managing to get two outs before he was lifted for left-hander Brett Cecil. His one mistake came on a fastball that Josh Harrison sent into right-center field for a triple.
But this outing was never going to be about the final result. The Blue Jays wanted to ease Stroman into the big leagues by getting him into a low-pressure situation. They accomplished that Sunday, and now Stroman has something to build from as he adjusts to big league hitters.
"We wanted to get him in as soon as possible," Blue Jays manager John Gibbons said. "He had a nice little comfortable lead there, a little breathing room; I thought he did great."
There had been some speculation over the past couple of weeks that Stroman, rated the club's No. 2 prospect behind Aaron Sanchez by MLB.com, could be joining the Blue Jays in the near future as a starter. That has yet to happen, and Toronto will at least temporarily use him as a reliever to give its struggling bullpen a much-needed boost.
Stroman doesn't seem to care where the Blue Jays put him, enthusiastic in the role in which Toronto currently wants him.
"I'm just happy to be here," Stroman said before Sunday's game. "I've had experience in the bullpen, I'm not worried about it, I feel like I can come in -- that's something I've done before in the past, and that's something I'm comfortable with, so it's not like it's completely new."
Stroman does have plenty of experience in the bullpen. He spent some time as a closer at Duke and most recently came out of the 'pen in the Arizona Fall League. When Stroman was taken in the first round of the 2012 First-Year Player Draft, a lot of experts predicted he would eventually end up being used as a reliever.
But the Blue Jays decided last year to try to develop Stroman as a starter. It appeared to be a wise move, as he ended up going 9-5 with a 3.30 ERA in 20 starts for Double-A New Hampshire. The success put Stroman in the conversation for a big league starting spot this year, and he had an opportunity to compete for a job this spring but ultimately came up short.
Stroman struggled with the location of his fastball and hung too many breaking balls during camp, and the end result was an assignment with Triple-A Buffalo. He appears to have fixed some of those problems and was off to an incredible start with the Bisons before his promotion by posting a 1.69 ERA and striking out 36 over the course of 26 2/3 innings.
"Fastball command has definitely been a lot better; I've been keeping the ball down in the zone much better," Stroman said. "The development of my change has been huge, and I just feel more comfortable, more settled in. That was my first big league spring, I feel like I got ahead of myself sometimes, but I feel real comfortable, I feel like I'm ready to go out there and pitch well."
Gregor Chisholm is a reporter for MLB.com. Read his blog, North of the Border, and follow him on Twitter @gregorMLB. This story was not subject to the approval of Major League Baseball or its clubs.