Lind may return for finale against Phillies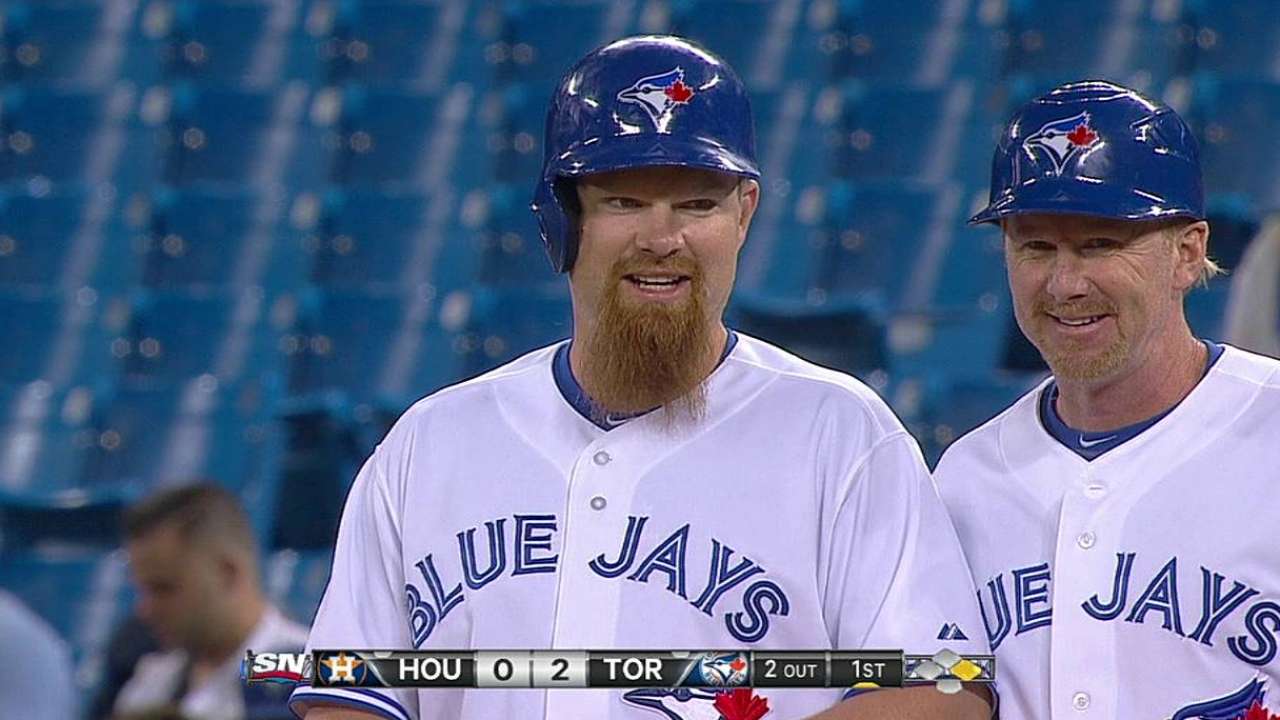 TORONTO -- Adam Lind could return to the Blue Jays for Thursday's game against the Phillies, manager John Gibbons said Wednesday.
Lind, who is on the 15-day disabled list with tightness in his lower back, was scheduled play nine innings for Class A Dunedin on Wednesday.
"Possibly, yeah, he may be here tomorrow," Gibbons said. "We're not quite sure yet. ...We'll see how he feels. He's moving along pretty good."
Gibbons was not clear on who Lind would replace on the Blue Jays' roster, saying only that it would "probably be a catcher." He was most likely referring to Erik Kratz, but he backed away from that statement Wednesday evening, saying that Kratz, who was 2-for-4 with a home run in Wednesday's 10-0 victory against the Phillies, would most likely stay around to guard starting catcher Dioner Navarro, who has been nursing an injured quadriceps.
"He's a big league player, he's proved that," Gibbons said of Kratz. "He came up through this system, always been the odd man out. Probably not a lot of recognition. But he stuck with it. … If there's any way we can keep him, we'll definitely do that."
Josh Thole is the other catcher on the Blue Jays' roster, and for the most part he is behind the plate whenever knuckleballer R.A. Dickey gets the start. Thole has put up decent numbers in the batter's box this season, going .400 (14-for-35) in 14 games.
Lind, who normally fills the designated hitter role for Toronto, has been out of the lineup since April 15. He's hitting .324 (11-for-34) with one home run and nine walks in 13 games.
Also on the injury front, third baseman Brett Lawrie remained out of the lineup Wednesday. Lawrie left Monday's game in Philadelphia in the fourth inning with tightness in his left hamstring, and he sat out Tuesday's contest against the Phillies. He is expected to return to action Thursday or Friday.
Gibbons said Lawrie's injury was minor and that he did not expect it to lead to a spot on the disabled list.
"We don't think that's going to happen at all," Gibbons said. "[He] doesn't play tonight, doesn't play tomorrow, he'd be ready to go. We think it's very minor, but we don't want to aggravate it too soon, either, then he ends up on the DL."
Jamie Ross is an associate reporter for MLB.com. This story was not subject to the approval of Major League Baseball or its clubs.