Reyes' speed on display over past two games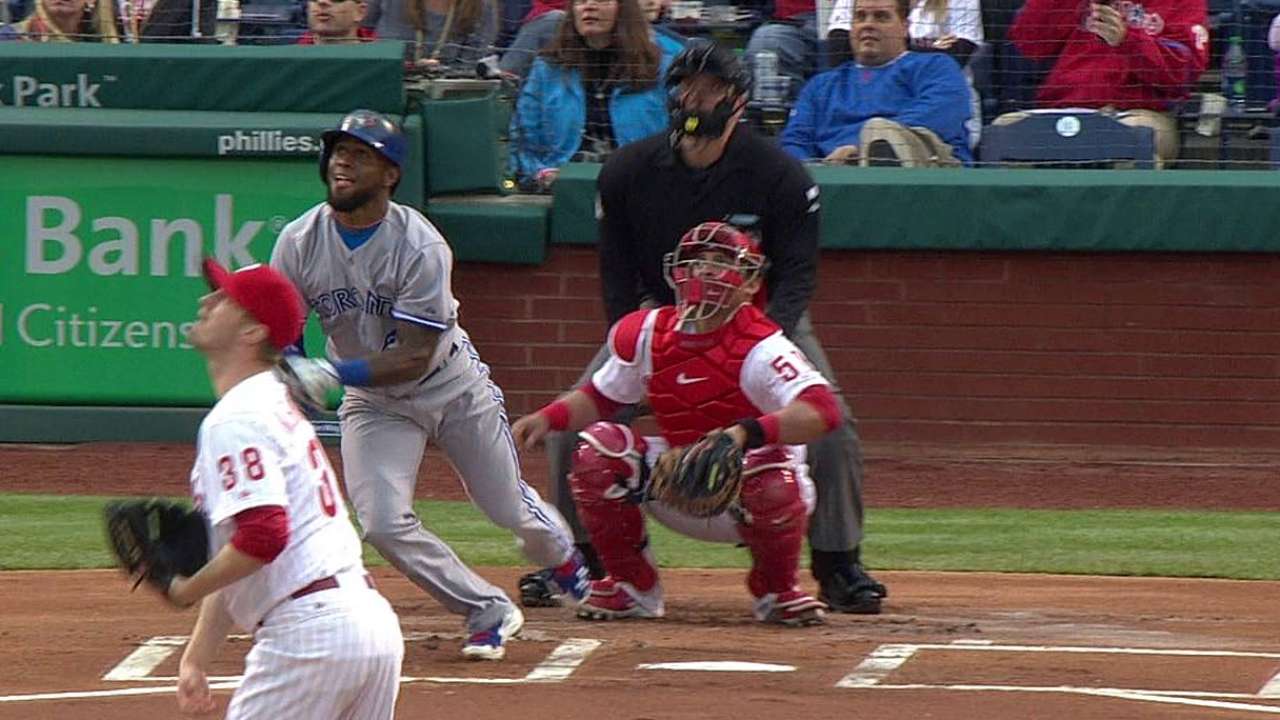 TORONTO -- Jose Reyes is starting to look like his old self. On the basepaths, anyway.
The Blue Jays shortstop swiped a pair of bases for the first time since Sept. 2, 2012, in the team's 12-6 win over the Phillies on Thursday, giving him three over the past two games.
It's a sign the 30-year-old is returning to form since recovering from a hamstring injury he sustained on Opening Day in his first at-bat. Reyes missed 17 games in April because of the injury, and he had stolen just one base this season until Wednesday against the Phillies.
"My leg feels good," said Reyes prior to the Blue Jays' game against the Angels on Friday night. "It takes a little time, but running-wise I feel good."
With the leg healed, he's turning his focus toward the batter's box, where he'll look to raise his on-base percentage to career norms. Through 19 games entering Friday, his OBP was .261. Over the course of his 12-year Major League career, that rate is .341.
Still, Reyes believes he's having some quality trips to the plate. He said it's only a matter of time before his batting average and OBP begin to right themselves.
"I feel lately I've been getting good at bats, going deep into counts and seeing a lot of pitches," Reyes said. "I need to get to the point ... that I can be consistent and go from there. It's a long season. And in a long season, there are going to be some struggles. So hopefully my timing comes back as soon as possible."
The Blue Jays have yet to see Reyes at the top of his game for any extended period of time since acquiring him in a 12-player trade with the Marlins in the offseason two years ago.
Reyes sustained a severe left ankle injury in April of last season, and though he returned to the lineup in late June, Reyes admits he never really felt like his old self.
"Last year, I think they got to see me play [like I can] for the first week and a half of the season before I had my injury," Reyes said. "And when I came back, when you're playing, you use your ankle. I wasn't able to do what I was supposed to do, and what I've done in the past."
Jamie Ross is an associate reporter for MLB.com. This story was not subject to the approval of Major League Baseball or its clubs.