Rogers' struggles taxing on Blue Jays' bullpen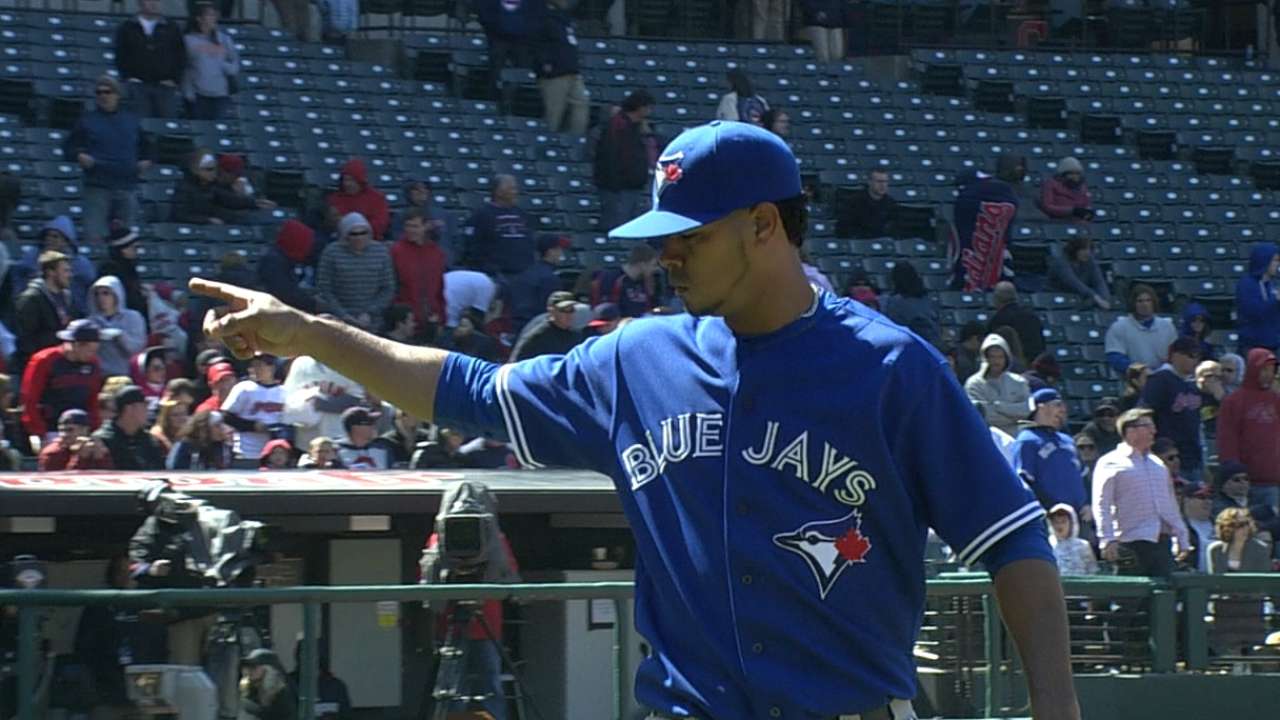 BOSTON -- The Blue Jays have continued to stick by right-hander Esmil Rogers throughout the course of the 2014 season, but their patience has to be on the verge of running out.
Toronto has protected its reliever through the first two months of the year despite his prolonged struggles on the mound. The main reason behind the offering of faith is that Rogers is out of options on his contract and cannot be sent to the Minor Leagues without clearing waivers.
That fact alone has been enough to keep Rogers on the 25-man roster, but it has gotten to the point where his performance has made it difficult to justify the role. Entering Thursday's series finale at Fenway Park, Rogers had posted a 6.97 ERA in 20 2/3 innings with a 1.67 WHIP and had allowed a team-high five home runs.
"In fairness to him, he has pitched kind of sporadically here," manager John Gibbons said. "He hasn't been able to get into a groove. I don't know. We're all trying to figure out [what's wrong]. A lot of times, it comes down to confidence, too. You start to struggle a little bit and you lose that edge. I don't know."
Gibbons has struggled to find a consistent role for Rogers this season. He began the year alongside Todd Redmond as the Blue Jays carried two long relievers in their eight-man bullpen. The original hope was that Rogers also would be able to throw some quality innings in long relief, but that hasn't happened.
With the rest of the bullpen in need of a rest on Wednesday night, Gibbons called upon Rogers to pitch the eighth inning in a game the Blue Jays led 6-1. Rogers responded by getting just one out and allowing three runs on three hits, which forced Gibbons to call upon other relievers instead of giving them a break.
"Yeah," Gibbons said when asked if it has been difficult to find spots where he can use Rogers. "We've been in a lot of nail-biters, a lot of tight ballgames the last few weeks. It seems like it anyways."
There's also some serious debate about whether the Blue Jays need to carry a pair of long relievers. Right-hander Dustin McGowan also has the ability to go multiple innings, but Gibbons admitted "you don't want to waste him" in a game when the score is a little lopsided.
The recently promoted Rob Rasmussen also has the ability to provide some length out of the 'pen, but Gibbons attempted to deflect some of the criticism being thrown at Rogers by suggesting the configuration of his club's relievers isn't all that rare.
"You need guys for certain roles," Gibbons said. "Every team has that. You can probably look at most teams and they probably have a couple of guys they can go to that will give you some length."
Gregor Chisholm is a reporter for MLB.com. Read his blog, North of the Border, and follow him on Twitter @gregorMLB. This story was not subject to the approval of Major League Baseball or its clubs.