Control has been biggest issue for Delabar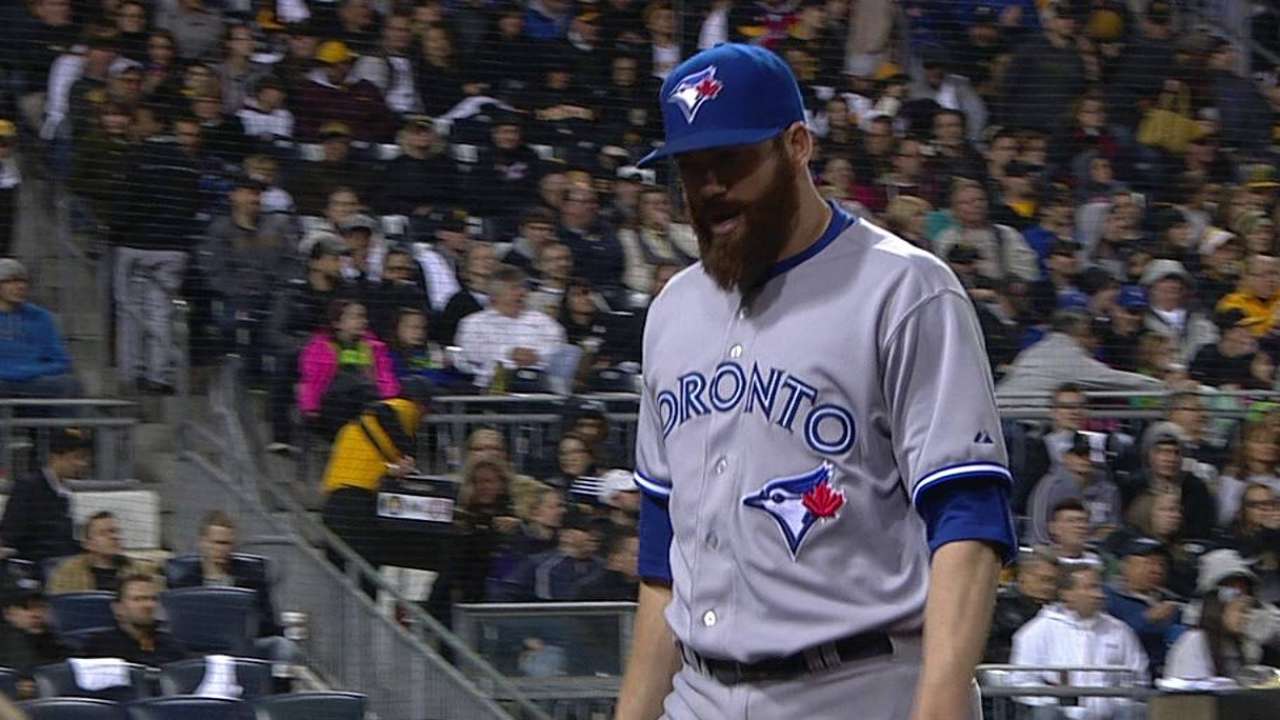 DETROIT -- Last year, Steve Delabar was one of the most reliable relievers in baseball, but this season, the Blue Jays are still waiting for that dominating force to establish himself.
Delabar's velocity has dipped a bit this season, but even more alarming has been the lack of control. The walks are up, the strikeouts are down and the once overpowering reliever is no longer such a sure thing.
None of that is to suggest Delabar won't be able to turn things around in the relatively near future, but the prolonged struggles of the 2013 All-Star certainly haven't gone unnoticed by manager John Gibbons.
"He's not locating his fastball, and walking too many guys," Gibbons said. "Might be feeling for it a little bit. A lot of times that will happen when you start walking guys, try to start guiding it a little bit, and it works totally the opposite."
There has been plenty of talk recently about Delabar's decreased velocity, but the numbers would suggest it's not as drastic as some would lead you to believe. According to Brooks Baseball, Delabar averaged 95.53 mph on his four-seam fastball last season, and this year he's slightly down to 94.59.
The loss of even one mph is less than ideal, but it's also something that Delabar should be able to overcome. The bigger issue has been the inconsistent command as Delabar has walked 1.2 more batters and struck out 4.7 fewer per nine innings this season.
Delabar has walked at least one batter in seven of his past 11 outings. Those issues surfaced again on Tuesday night as he walked two before eventually giving up a three-run homer with two outs to J.D. Martinez.
"He says he feels fine," Gibbons said when asked if there were any health concerns. "He competes, he keeps competing. [A lot of relievers] hit stretches and it's not as easy as it used to be, but they still get back on track."
Gregor Chisholm is a reporter for MLB.com. Read his blog, North of the Border, and follow him on Twitter @gregorMLB. This story was not subject to the approval of Major League Baseball or its clubs.