Backstop Morgan taken by Toronto in Round 4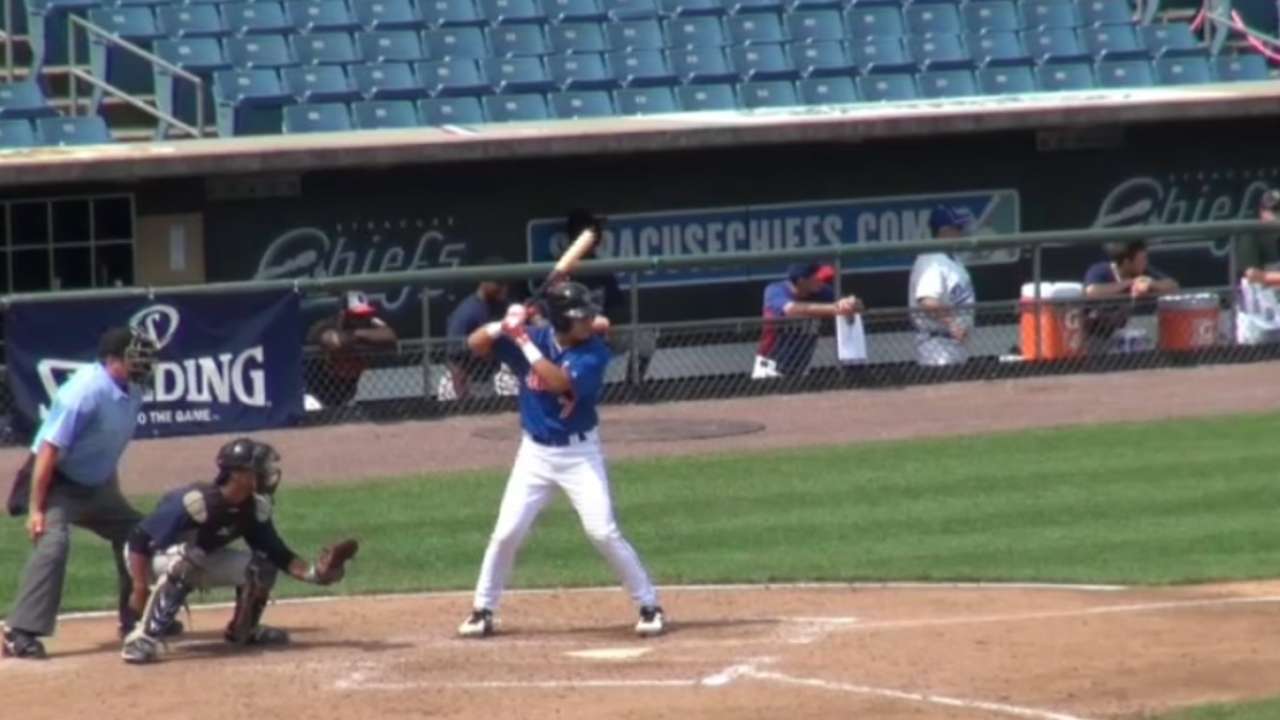 The Blue Jays continued to restock their Minor League system with catchers by taking Matt Morgan in the fourth round of the First-Year Player Draft on Friday afternoon.
Morgan became the second catcher drafted by Toronto in the early rounds after the club used the 11th overall pick on Max Pentecost. It has been a glaring area of need after Travis d'Arnaud, J.P. Arencibia, Yan Gomes and Carlos Perez departed the organization for various reasons over the past two years.
The Draft concludes on Saturday, with exclusive coverage of Rounds 11-40 beginning on MLB.com at 1 p.m. ET.
The biggest concern with young catchers is often whether they'll actually be able to remain behind the plate. That doesn't appear to be an issue with Morgan, who has received some rave reviews for his ability to handle a pitching staff.
"This is a guy we're really excited about," Blue Jays director of amateur scouting Brian Parker said. "I know we took Pentecost in the first round, but this is a high school kid that we're very excited about and just him still being there in the fourth round is something that we didn't anticipate. And the fact we'd already taken a catcher, it didn't dissuade us because we like the talent."
The defensive-minded catcher possesses a lot of athleticism and has an above-average throwing arm. According to the MLB.com scouting report, he also has received high marks for his leadership skills and competitiveness.
The 18-year-old has a commitment to Alabama, and just like all high schoolers, he'll need to be convinced to sign a professional contract. The recommended slot value for the No. 114 pick is $458,000, and the Blue Jays have a total bonus pool of $9,458,500 to work from.
Even if the Blue Jays convince Morgan to sign, this is the type of talent that will take multiple years to develop. High school catchers often take a long time to work through the system because it's arguably the toughest position to master. A perfect example can be found in d'Arnaud, who was taken out of high school in 2007 but didn't make his Major League debut until 2013.
Morgan was ranked as the No. 126 prospect in the Draft by MLB.com. There are some question marks about his bat, but there's a belief that he will be able to develop additional power in the next couple of years. For now, he's more of a gap-to-gap hitter. He becomes the first Alabama high school catcher to be taken in the first five rounds since Craig Brazell in 1998.
During his senior season at Thorsby High School, Morgan hit .520 with five homers and 24 RBIs. He was a member of the Alabama Sports Writers' Association All-Star Team in 2012 and '13. This year's recipients have not been announced.
"It's a pretty good bat, it's got some strength," Parker said. "I saw it this spring. This is a guy, we had him to our pre-Draft workout in Atlanta last month, and it's a kid we think has a chance to be a two-way guy. He can really help defensively right now. This is a guy long term that's going to be a legit two-way player."
Gregor Chisholm is a reporter for MLB.com. Read his blog, North of the Border, and follow him on Twitter @gregorMLB. This story was not subject to the approval of Major League Baseball or its clubs.