Viola III debuts to delight of fellow knuckleballer Dickey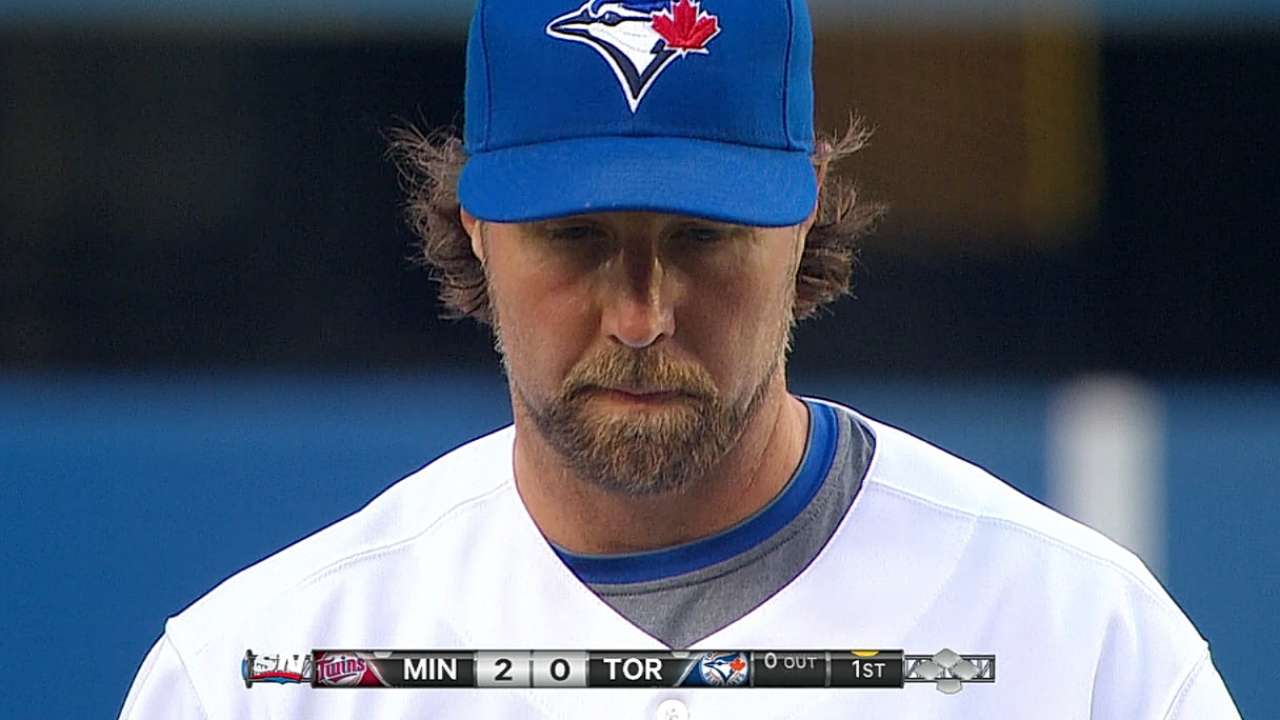 TORONTO -- Knuckleballer Frank Viola III made his Minor League debut with the Blue Jays' organization by tossing four scoreless innings for Class A Lansing on Monday night and R.A. Dickey was eager to hear about the results.
Dickey was informed of the outing on Tuesday afternoon and had nothing but positive things to say about a player he helped mentor during the offseason. Viola spent two months in Nashville, Tenn., earlier this year and frequently worked with Dickey.
The two initially formed a bond when Dickey was with the Mets in 2012 and since that time, Viola has evolved into the type of knuckleballer that may have a chance to continue doing this for a living.
"I think potentially he could be a very good knuckleball pitcher," Dickey said. "So much has to happen to be able to hold that pitch in the right place. Mentally, you've got to be a certain way. You've got to have a certain type of personality. You have to be able to field your position well, hold runners well.
"I think that he has a good enough knuckleball to be able to pitch up here. Now the other stuff, we'll see. But I have a lot of hope that he can do it. His narrative is such that he's come from some darkness, and a lot of guys that do that have a way of holding the pitch in the right perspective. So we'll see."
The darkness Dickey is referring to came after Viola was selected by the White Sox in the 29th round of the 2005 First-Year Player Draft. He got hurt within two years and eventually had to undergo Tommy John surgery before getting released by Chicago in 2007. He spent some time in independent baseball before eventually trying to reinvent himself as a knuckleballer.
The son of former Cy Young Award winner Frank Viola signed a Minor League deal with the Blue Jays during the offseason. That allowed him to be reunited with Dickey after a couple of years apart. The fraternity of knuckleballers is very small, but it's also tight and that's one reason why Dickey is more than willing to help in any way that he can.
"The very first time I played catch with him, I was a New York Met, and he came down to throw a bullpen and asked me to watch it," Dickey said. "I watched it, and at that point I wasn't as optimistic as I have become because he just wasn't in the same place.
"But the second time I saw him was when he came to Nashville to throw with me and we played catch together, and I was able to see first-hand that I thought he could repeat a delivery mechanically, and he could take spin off the baseball. And if you can do those two things, you've got a shot."
Gregor Chisholm is a reporter for MLB.com. Read his blog, North of the Border, and follow him on Twitter @gregorMLB. This story was not subject to the approval of Major League Baseball or its clubs.