MLB.com Columnist
Jonathan Mayo
Pipeline Prospects of the Week
Marrero hits in all six games played; Davies puts up two scoreless starts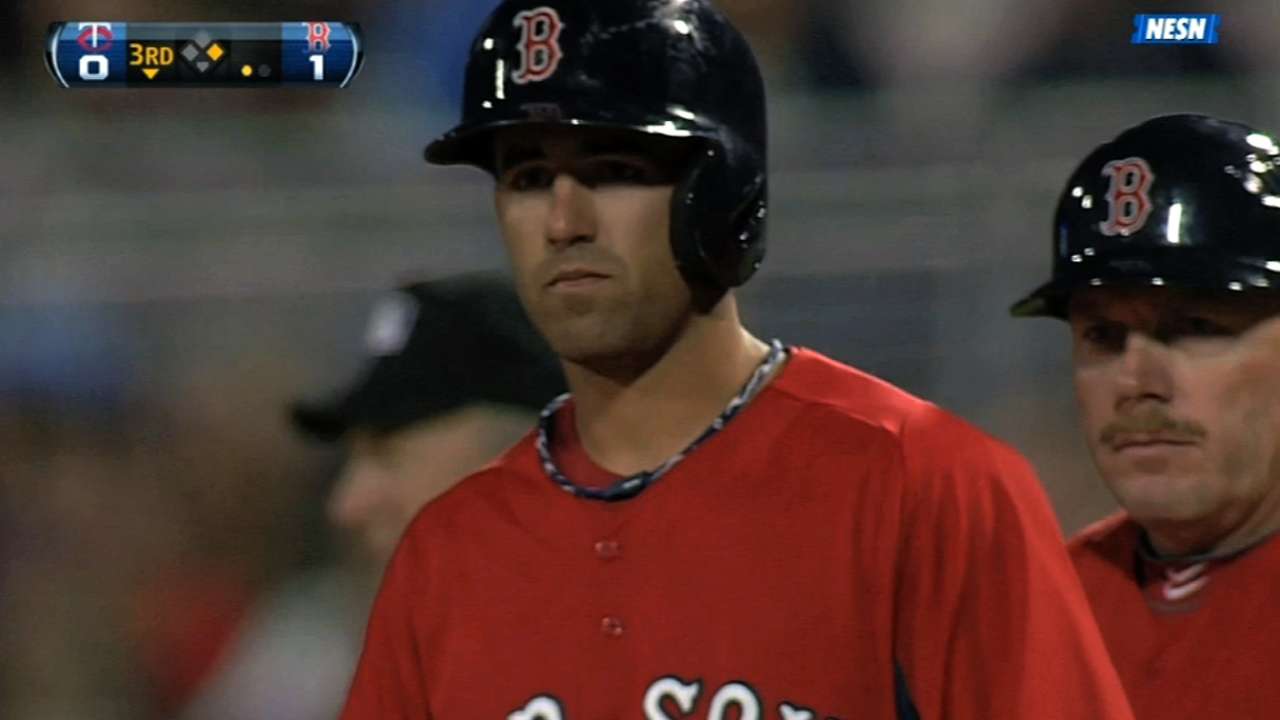 Throughout the season, the MLBPipeline.com staff will name Pipeline Prospects of the Week -- one hitter and one pitcher who excelled over the previous seven days. To qualify for selection, a player must rank among his organization's Top 20 Prospects, as listed on our Prospect Watch.
Pipeline Hitting Prospect of the Week: Deven Marrero, SS, Portland SeaDogs (Red Sox's No. 13 prospect): 6 G, 13-for-20 (.650/.652/.900), 1.552 OPS, 1 HR, 4 RBIs, 6 R, 2 BB, 2 K, 1 SB
Marrero is known more for his glove, but his work with the bat this past week made him the unanimous choice for the honors.
The 2012 first-round Draft pick hit in all six games he played during the week, kicking things off with a three-hit effort on June 16 and another one the following day. Marrero went 3-for-4 on Sunday for his third three-hit game of the week, collecting a double and a triple along the way.
Marrero has had a tremendous June after a rough May, hitting .391/.459/.531 in 17 games this month. That brings his season totals to a very respectable .292/.372/.421.
Honorable mention
Greg Bird, 1B, Tampa Yankees (Yankees' No. 6 prospect): 6 G, 11-for-23 (.478/.556/.739), 1.295 OPS, 6 2B, 2 RBIs, 4 R
Cord Sandberg, OF, Williamsport Crosscutters (Phillies' No. 10 prospect): 7 G, 11-for-30 (.367/.424/.700), 1.124 OPS, 2 HR, 8 RBIs, 7 R, 2 SB
Matt Olson, 1B, Stockton Ports (A's No. 5 prospect): 4 G, 5-for-16 (.313/.476/.750), 1.226 OPS, 4 HR, 9 RBIs, 7 R
Zach Walters, SS, Syracuse Nationals (Nationals' No. 10 prospect): 6 G, 6-for-22 (.273/.407/.818), 1.226 OPS, 3 HR, 7 RBIs, 6 R
Pipeline Pitching Prospect of the Week: Zach Davies, RHP, Bowie Baysox (Orioles' No. 12 prospect): 2-0, 0.54 ERA, 2 GS, 13 IP, 3 H, 0 R, 0 ER, 4 BB, 7 SO
A bout with tendinitis in his shoulder forced Davies to miss nearly all of May, and he struggled in his first two starts of June, but it looks as though he might be turning it around, if this past week is any indication.
Davies, a 26th-round Draft pick of the Orioles out of the Arizona high school ranks back in 2011, put up nothing but zeros in his two starts. Against Trenton on June 16, he went six innings, allowing just two hits.
Daviesone-upped himself on Sunday, allowing just one hit over seven innings, just the second time all season he's gone that far in a start. He isn't a big strikeout guy, but he has continued to get ground-ball outs, upping his GO/AO to 1.79 on the year to go along with his 4.24 ERA and .232 batting average against over 40 1/3 innings.
Honorable mention
Eric Surkamp, LHP, Charlotte Knights (White Sox No. 20 prospect): 1-0, 0.64 ERA, 2 GS, 14 IP, 8 H, 1 R, 1 ER, 2 BB, 15 K
Jose Berrios, RHP, Fort Myers Miracle (Twins' No. 5 prospect): 1-0, 0.00 ERA, 1 GS, 7 IP, 1 H, 0 R, 0 ER, 2 BB, 9 SO
Nick Tropeano, RHP, Oklahoma City RedHawks (Astros' No. 16 prospect): 1-0, 2.13 ERA, 2 GS, 12 2/3 IP, 2 H, 3 R, 3 ER, 5 BB, 13 SO
Tyrell Jenkins, RHP, Palm Beach Cardinals (Cardinals' No. 15 prospect): 1-0, 0.00 ERA, 1 GS, 6 IP, 0 H, 0 R, 0 ER, 1 BB, 3 SO
Justin Nicolino, LHP, Jacksonville Suns (Marlins' No. 4 prospect): 1-0, 0.00 ERA, 1 GS, 9 IP, 5 H, 0 R, 0 ER, 0 BB, 4 SO
Dylan Bundy, RHP, Aberdeen Ironbirds (Orioles' No. 1 prospect): 0-0, 0.00 ERA, 1 GS, 5 IP, 1 H, 0 R, 0 ER, 1 BB, 9 SO
Jonathan Mayo is a reporter for MLBPipeline.com and writes a blog, B3. Follow @JonathanMayoB3 on Twitter. This story was not subject to the approval of Major League Baseball or its clubs.