MLB.com Columnist
Jonathan Mayo
Pipeline Inbox: Can Toronto ink its top Draft picks?
Jonathan Mayo responds to fans' questions about baseball's top prospects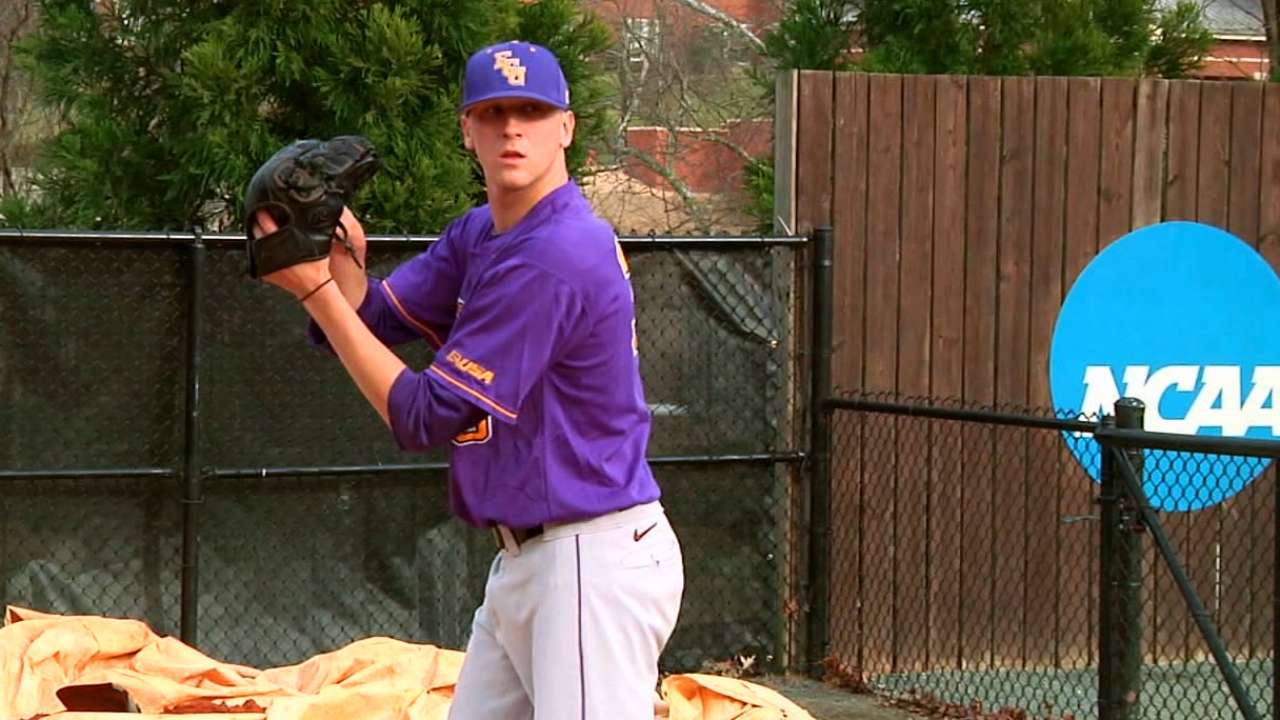 While the First-Year Player Draft is now three weeks in our rearview mirror, the Pipeline Inbox is still being filled up with questions about teams' drafts, signings and, of course, the prospects themselves. So let's give the people what they want: an Inbox filled mostly with answers on those very subjects.
Did the Blue Jays mess up again with their first-round picks? Will they be stuck not being able to sign Jeff Hoffman and Max Pentecost? I am not sure what happens with them when they draft in the first round, but they seem to misjudge whether they will sign with them or not. If they do not sign these two picks again, will they get the 10th and 12th overall picks next year as well as their own?
-- Bob, Calgary, Alberta
OK, Blue Jays fans, please step away from any ledges. It's only June 26 and the signing deadline is July 18. There's time. Yes, I know Toronto has missed on a couple of first-rounders over the past few years, but I don't think that means there is trouble brewing with this year's two picks.
In the end, I think both guys get signed. I'm a bit surprised Pentecost hasn't signed yet, but that will get done soon, I'm willing to wager. Hoffman was always going to be the tricky one, but there's no reason to rush. The Tommy John surgery recipient isn't going to pitch this year anyway.
Financially, the Blue Jays had just under $9.5 million to spend, the fourth highest pool among the 30 teams. They have signed all of their top 10 round picks outside of those first two and seventh-rounder Zack Zehner. Zehner is a fourth-year junior who has decided to return to Cal Poly for his senior year, so the Blue Jays can't use any of that pick's value of $192,400. So far, they've saved $71,400 in pool money after going $400,000 over to sign fifth-rounder Lane Thomas. The pick values added together for Hoffman and Pentecost are just over $5.9 million. So figure they have about $6 million and change to spend on the two picks, a bit more if they are willing to go over and pay a fine, but not forfeit a pick (up to five percent over).
Hoffman was considered a top-of-the-first-round talent before injury, but it's hard to envision him not signing and taking a chance next year. So be patient. They'll get this one right. If they don't, so you know, the No. 11 pick is protected for one more year (it was compensation for not signing Phil Bickford a year ago), thanks to the rules in the most recent Collective Bargaining Agreement.
Now that the Draft is over, inevitably we can start to look at next year. Despite the 2015 Draft being so far away, can you give me five of the likely top picks for next year and a brief description of them?
-- Ryan, Boston, Mass.
Ryan, I'm going to save everyone some time. I wrote a story, right at the conclusion of the Draft, about this very topic. It's a quick look at some top 2015 names. There are five high school and five college names. One is Carson Fulmer, who started the finale of the College World Series for Vanderbilt on Wednesday night. One of the high schoolers is Daz Cameron, the son of former big leaguer Mike, who is considered to be one of the top prospects in the country and was thought to be the best performer at the recently-completed Tournament of Stars. There's a lot more to come in terms of summer showcases and leagues, so stay tuned.
How do Carlos Rodon and Brady Aiken compare to other pitching prospects in the Minors? In addition how does Alex Jackson compare to other hitting prospects?
-- Matthew B., St. Paul, Minn.
I have to say, Jim and I love questions like this, even if they can be tough to answer. Comparing a high schooler like Aiken to other more advanced prospects who've been in pro ball for a while is challenging, but a fun exercise.
Using our grades on both the Top 100 Prospects list and the Top 200 Draft Prospects list as a guide helps give us some answers. Both Rodon and Aiken have overall future grades of 65 on the 20-80 scouting scale. That's equal to the top pitching prospects we have on our list, ahead of such arms as Robert Stephenson and Dylan Bundy, both of whom have a 60 grade. Assuming that we'd put Aiken and Rodon toward the tail end of the 65s, I'd put them both in the 13-15 range, perhaps right ahead of Mark Appel. They would become the top two names on our Top 10 left-handed pitching prospects list.
Jackson has an overall grade of 60. Cubs prospect Albert Almora is the first 60 on our Top 100, with Gregory Polanco the last 65. If Jackson were going to catch, I'd be tempted to put him right in that neck of the woods (Almora is No. 15). He still has the chance to be a special bat in an outfield corner, so I don't think I'd move him down too far, maybe in the 20-25 range. We'll be re-ranking our lists after the signing deadline, so keep an eye out for where we settle on putting that trio, assuming Rodon signs.
The Astros have had a huge void in left field all season. Robbie Grossman and Alex Presley aren't cutting it. Do you think either Domingo Santana or Preston Tucker deserve a callup and chance to do better?
-- Jason K., Houston, Texas
The players who have manned left field (I'm including L.J. Hoes for good measure) for the Astros have hit a combined .204 and slugged .305, so I can see why you're looking for alternatives. Of the two you are considering, Santana has a better chance to be an everyday outfielder in the big leagues.
Ranked No. 7 on our Astros' top 20 list, he's only 21, but he's performing in Triple-A. He was just named to the Futures Game, so you'll get to see what he looks like in a big league setting very soon. There's some swing and miss to his game, but he's got power to spare. He fits the mold of a right fielder more, but he'd be just fine in left, where he's played a ton this year.
Tucker also has some power, though his overall tools aren't as loud as Santana's. A senior sign out of the 2012 Draft, he's up in Triple-A as well, having just recently moved up. He's scuffling a bit and probably needs more time. He also doesn't have as good a defensive profile. He might be a fourth outfielder, and he's seen some time at first and at DH. He's the type of performer who ends up contributing to a big league team, but if you're looking for a full-time answer to your left field woes, I think Santana's your guy.
Jonathan Mayo is a reporter for MLBPipeline.com and writes a blog, B3. Follow @JonathanMayoB3 on Twitter. This story was not subject to the approval of Major League Baseball or its clubs.