Newcomer Reimold takes over right for slowed Bautista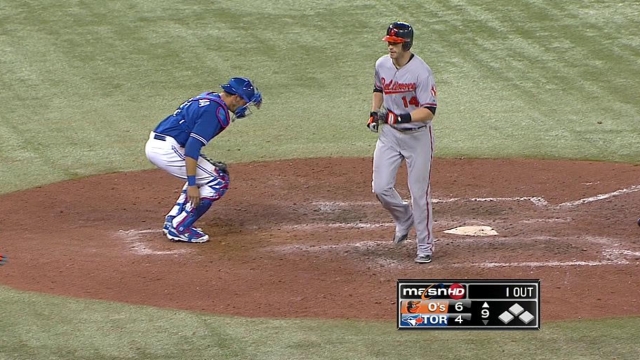 ANAHEIM -- As expected, outfielder Nolan Reimold officially joined the Blue Jays on Monday for the start of their three-game series vs. the Angels.
Reimold was claimed off waivers from the Orioles on Sunday morning. A spot was created on the 25-man roster when Edwin Encarnacion hit the 15-day disabled list with a strained right quadriceps muscle.
Prior to joining Toronto, Reimold had yet to play in a Major League game this season as he recovered from a serious neck injury. Reimold now becomes the Blue Jays' starter in right field until Jose Bautista is fully recovered from a strained left hamstring.
"I couldn't have asked for a better opportunity and a better team to pick me up," Reimold said. "They're doing well, up there in the division, and I was told I'd get an opportunity to play. I couldn't ask for anything more. I'm just very appreciative for this opportunity. I'm going to go out there and prove them correct for giving me a shot."
Reimold used to be one of Baltimore's top prospects, but his career was derailed because of injuries. In 2012, he had surgery to fuse the spine in his neck, but he found out almost a year later that the surgery was not successful.
That forced Reimold to undergo yet another season-ending surgery. The procedure is very similar to the one NFL quarterback Peyton Manning had prior to joining the Denver Broncos. Reimold now appears to be in the clear and says he feels fully healthy for the first time since the start of '12.
Reimold recently went through a rehab assignment with Double-A Bowie. He hit .315 with two homers and nine RBIs with a .902 OPS in 17 games. He was designated for assignment by the Orioles because they didn't have any room in the outfield.
Even when Bautista returns to right field, it's possible Reimold will settle into a platoon with Adam Lind at DH.
"I think, as an athlete, there's not too much more frustrating than waiting to do something physically and just not being able to do it," Reimold said. "That's kind of what I went through for a long time, not just after the surgery, but the residual effects with arm weakness and all of that.
"Just not being able to do what you used to be able to do. Good thing for me that a lot of time has gone by, I've had a lot of good results with this second surgery and feeling really good out there. I shouldn't have any problems and I'm eager to get started again."
Gregor Chisholm is a reporter for MLB.com. Read his blog, North of the Border, and follow him on Twitter @gregorMLB. This story was not subject to the approval of Major League Baseball or its clubs.