MLB.com Columnist
Jonathan Mayo
Pipeline Perspectives: Taylor, German dark horses
Nationals outfielder, Marlins pitcher are prospects to watch at Futures Game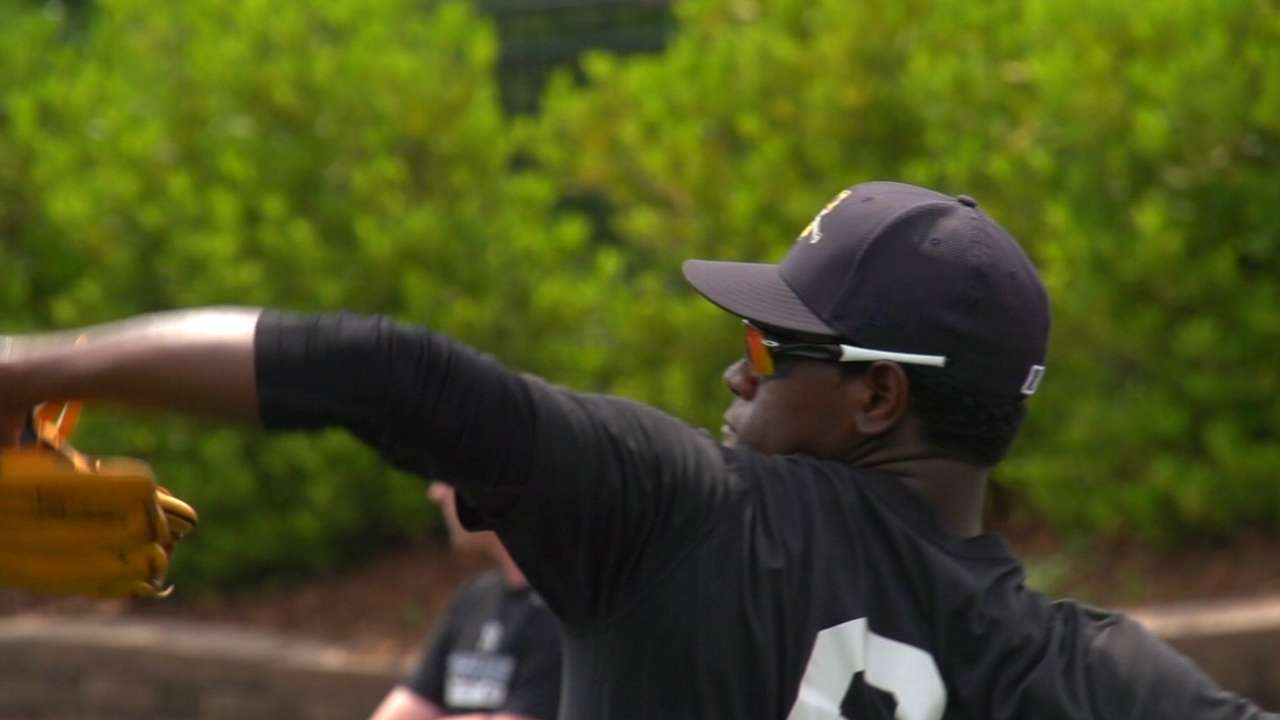 There's a good amount of subjectivity regarding baseball prospects. With the evaluation of talent being in the eye of the beholder, finding consensus is often difficult. Even Jim Callis and Jonathan Mayo of MLBPipeline.com don't always see eye to eye. They discuss their viewpoints regularly in a feature called Pipeline Perspectives. Submit a topic for them to debate.
This Sunday is the 16th edition of the SiriusXM All-Star Futures Game. It is quite possibly my favorite day on the baseball calendar.
Where else do you get to see that much up-and-coming talent on the field at one time? All of the top prospects that we write about at MLBPipeline.com on a daily bases in one setting, playing in front of a huge crowd on national TV (MLB Network and MLB.com, 5 p.m. ET; it's also on MLB Network Radio XM 89 and Sirius channel 209)? What could be better than that?
It's natural for everyone to want to see the big names. Who doesn't want to see if Kris Bryant or Joey Gallo can hit one out, or if Lucas Giolito can hit triple digits from the mound? But for this week's Pipeline Perspectives, Jim Callis and I wanted to shine the light on some of the lesser-known prospects who will be in attendance.
Everyone who attends the Futures Game is a legitimate prospect, but some are better known than others. And it's always exciting to see a more under-the-radar type step up on the big stage. This isn't a typical Perspectives where Jim and I are going to argue that one of our choices is better. Simply, we get to talk about a pair of prospects each, who aren't currently on the Top 100 list -- one from the U.S. and one from the World -- that we're looking forward to seeing in action.
Jim's choices are Mets catching prospect Kevin Plawecki and Yankees pitcher Luis Severino. Like Jim, I've selected a position player from the U.S. team and a pitcher from the World roster: Nationals outfielder Michael Taylor and Marlins right-hander Domingo German.
If Taylor, 23, keeps playing like he has this season, he won't be under the radar anymore. In fact, it wouldn't surprise me if he lands on that Top 100 list before the year is over. Currently No. 4 on the Nationals' Top 20, Taylor has always had a ton of raw tools. The question was whether he'd ever refine his baseball skills enough to use his talents consistently between the lines.
Taylor started to show some signs in 2013, when he stole 51 bases and had 57 extra-base hits. Then he moved up to Double-A, supposedly the toughest jump for a Minor Leaguer to make, and has excelled with a .326/.405/.551 line as of Tuesday. Taylor is tapping into his raw power -- his 18 home runs are by far a career high -- and he's continuing to run (27 steals). He's among the Eastern League leaders in just about every offensive category imaginable. Yes, Taylor still strikes out a bit much for some (111 in 325 at-bats), but his walk rate is vastly improved. He's becoming a much more dangerous and complete hitter.
Taylor also plays an outstanding center field, more impressive when you consider he was drafted as a shortstop. He's developing into one of the more exciting all-around players in the Minors, and he'll get the chance to have all of his tools on display this Sunday. Could Taylor be an Adam Jones type? I wouldn't say it's out of the question.
Typically, the World Team pitching staff isn't as well-known, with the roster chock full of power arms who may not be household names just yet. Sometimes they are extremely effective. While the U.S. has a four-game winning streak, the World Team tossed shutouts in 2008 and '05.
German, currently No. 20 on the Marlins' Top 20 list (but likely to move up when we re-rank all the lists), actually isn't one of these "rear back and throw as hard as I can" types. That's what intrigues me about him and why I'm eager to see how he throws against more advanced competition. German has moved slowly up the bottom rungs of the Marlins since signing out of the Dominican Republic in 2009, spending two summers in the Dominican Summer League and parts of two in the Gulf Coast League.
German is making his full-season debut this year, and so far, so good. Using a power sinker that tops out at 94 mph right now -- there's room for growth for him that could lead to more velocity -- as well as an outstanding changeup, he is in the top 10 in the South Atlantic League in ERA (2.93). German is second in strikeouts and is whiffing nearly a batter an inning while maintaining a high groundout-to-flyout ratio at the same time. But the number that really sticks out is 19. That's how many (or should I say how few) walks German has allowed in 98 1/3 innings. You don't see a 1.7 BB/9 rate or a 5 K/BB ratio from young pitchers just getting started very often.
If I'm lucky, I'll get to see German face Taylor. And the beautiful thing is, I don't have to root for either one. I can just enjoy watching all that talent on display. That is, after all, what the Futures Game is all about.
Jonathan Mayo is a reporter for MLBPipeline.com and writes a blog, B3. Follow @JonathanMayoB3 on Twitter. This story was not subject to the approval of Major League Baseball or its clubs.