Rasmus gets first taste of platoon role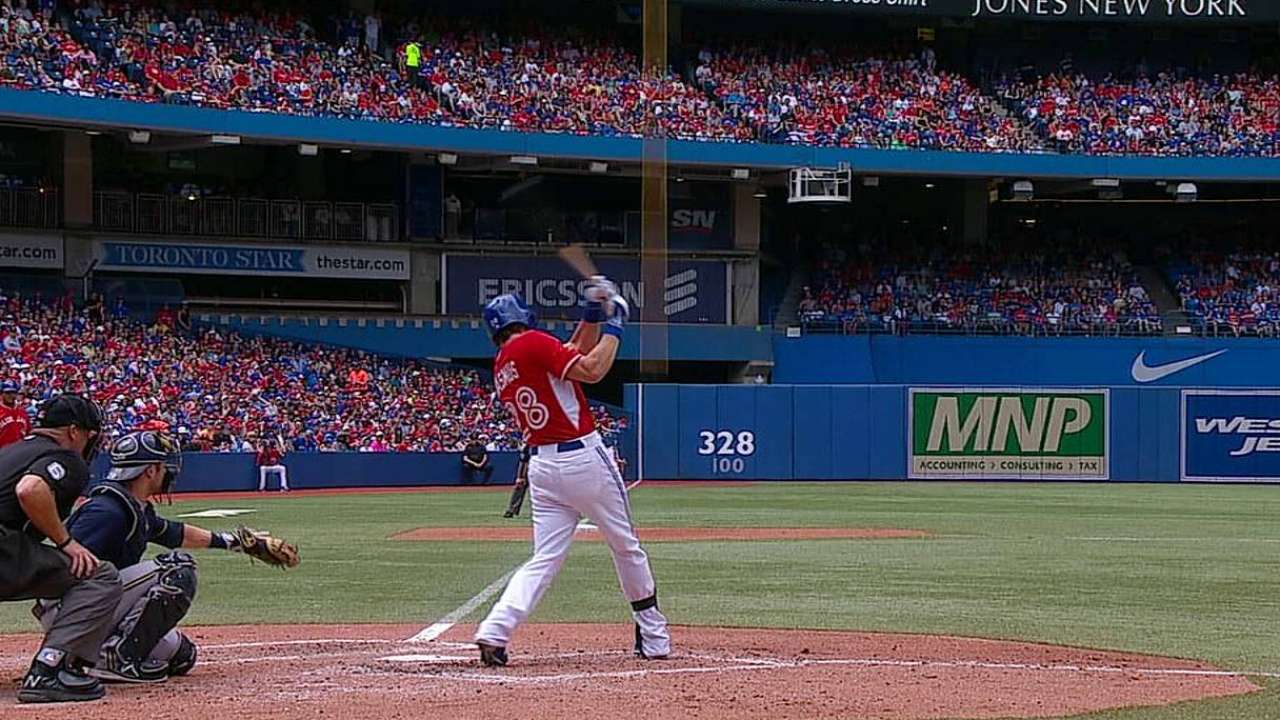 ANAHEIM -- Colby Rasmus was held out of the starting lineup on Tuesday night as the Blue Jays followed through on their intention of creating a platoon in center field.
Rasmus is no longer an everyday starter in the outfield, as he'll sit vs. left-handed pitchers. Darin Mastroianni got the start in center against Halos lefty Tyler Skaggs, and that arrangement is expected to continue at least until Rasmus heats up at the plate.
The 27-year-old Rasmus is hitting .193 with three homers, eight RBIs and a .656 OPS in 18 games since returning from the disabled list. Overall, he has a .167 average and .619 OPS against lefties this season.
"It's different than what I've been in before, as far as being platooned," Rasmus said. "I'm just going to look at it [like] they're trying to help me in some weird kind of way. They're trying to help me, so I'm going to do my best to hang with it, pinch-hit, run or whatever I have to do."
A new low for Rasmus likely came during Monday night's series opener when he was lifted from the game for pinch-hitter Mastroianni in the seventh inning. Toronto manager John Gibbons made the move knowing that the Angels would replace left-hander Joe Thatcher with right-hander Jason Grilli.
That essentially meant Gibbons preferred the light-hitting Mastroianni vs. Grilli to Rasmus against Thatcher. It was a rather surprising move even though it came on the same day that Gibbons announced the club would be shifting to a platoon in center.
"Well, you knew they had us either way," Gibbons said rather bluntly. "So they forced our hand. They got us any way we want to go there."
The only way Rasmus will be able to get himself out of this current platoon is to start hitting better. That becomes a little more difficult without everyday at-bats, but he's also the type of streaky player who can get hot and carry a team offensively.
Rasmus also will need to see an uptick in his production to avoid having his overall value drop before he hits free agency at the end of the season. He could be in line for a rather large payday, but the current numbers and the fact he's now stuck in a platoon aren't doing him any favors.
"That's not really my main concern," Rasmus said of the upcoming offseason. "My main concern is just getting back to playing. Not necessarily trying to prove anything, not prove to anybody that I have to do anything. Just to come in, do what I have to do, play baseball, have fun, enjoy my family, and that'll be it. I'm not going to let whatever's going on, put stress on me. Whenever they want me to play, I'll play."
Gregor Chisholm is a reporter for MLB.com. Read his blog, North of the Border, and follow him on Twitter @gregorMLB. This story was not subject to the approval of Major League Baseball or its clubs.