Kratz putting best face on frequent Minors trips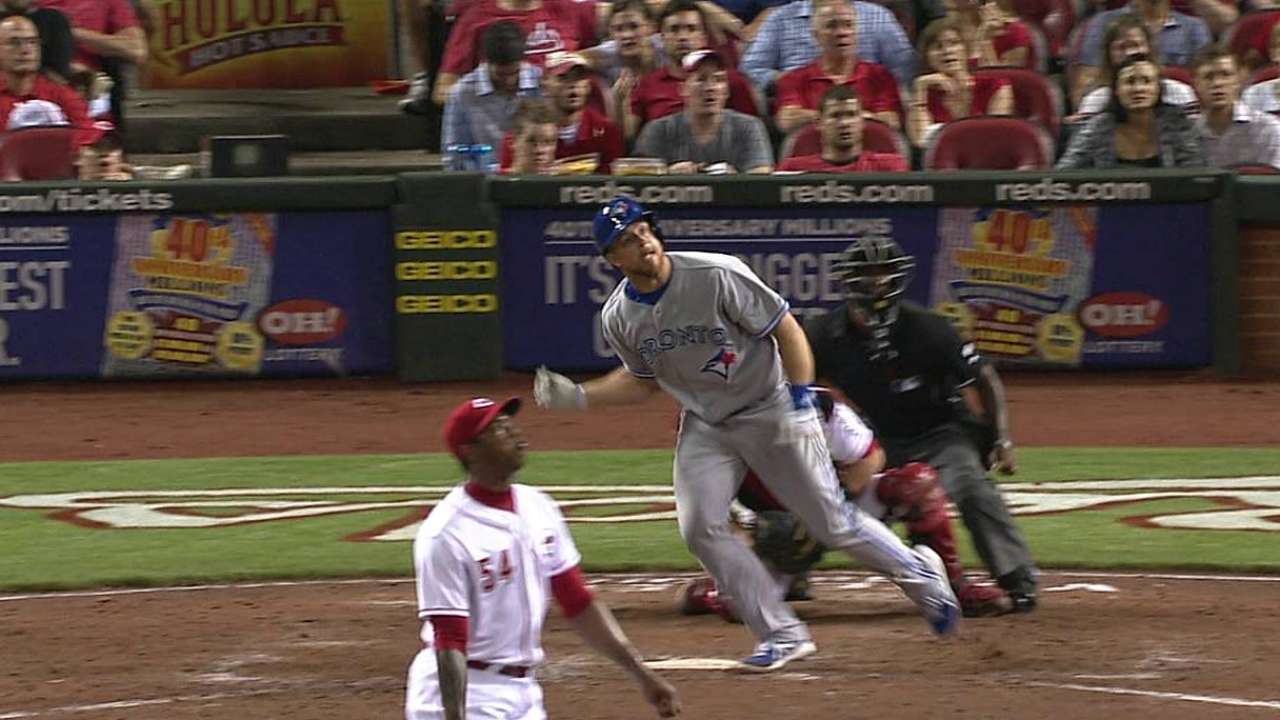 ANAHEIM -- The Blue Jays have tested the patience of veteran catcher Erik Kratz on more than one occasion this year, but so far he has managed to battle through the roller-coaster of emotions.
Kratz rejoined his teammates on Wednesday morning following another stint with Triple-A Buffalo. When he was initially sent down on June 23, it wasn't because of his performance but yet another example of Kratz being caught in a numbers game.
The 34-year-old has been optioned to the Minors four times this season. The seemingly endless list of roster moves can be tough on any player, but at least Kratz seems to be dealing with it better than he might have during his younger days.
"At different points in your career, you figure out how to deal with certain things and you figure out that baseball moves need to be made," said Kratz, who was promoted when Cole Gillespie was placed on the 15-day disabled list. "But I'll be honest. I was disappointed to be down there. I wasn't happy-go-lucky, but I wasn't going to allow that to affect my play. The first time I got sent down this year I let it affect my play.
"It was frustrating knowing I could be up here helping the team. Everybody thinks they should be up here, but when you get sent down, it's all about how you respond mentally so that when they do call you back up, you're ready to play."
Kratz has found himself the odd man out because Dioner Navarro is the Blue Jays' starter behind the plate and Josh Thole is R.A. Dickey's personal catcher. Toronto's gone through several stints of carrying three catchers, but that's not always a luxury organizations can afford.
When Kratz has been up, though, he has been effective. He's the best defensive catcher in the group of three and possesses the type of power that can be particularly useful against left-handed pitchers. On the current 25-man roster, his presence allows the Blue Jays to sit Adam Lind against lefties, start Navarro at designated hitter and use Kratz behind the plate.
That's the type of alignment manager John Gibbons has liked for quite some time. He just hasn't always had the resources at his disposal.
"You just have to accept it," Kratz said. "It might not be so easy to send me down without my option, but you just have to roll with it.
"Maybe at the end of the season when you're evaluating your season, that lessens the blow because you know they have confidence in you. But it does increase the frustration level, because you want to be one of the 25 guys up here helping the team win."
Gregor Chisholm is a reporter for MLB.com. Read his blog, North of the Border, and follow him on Twitter @gregorMLB. This story was not subject to the approval of Major League Baseball or its clubs.