Bautista healthy enough to return to right field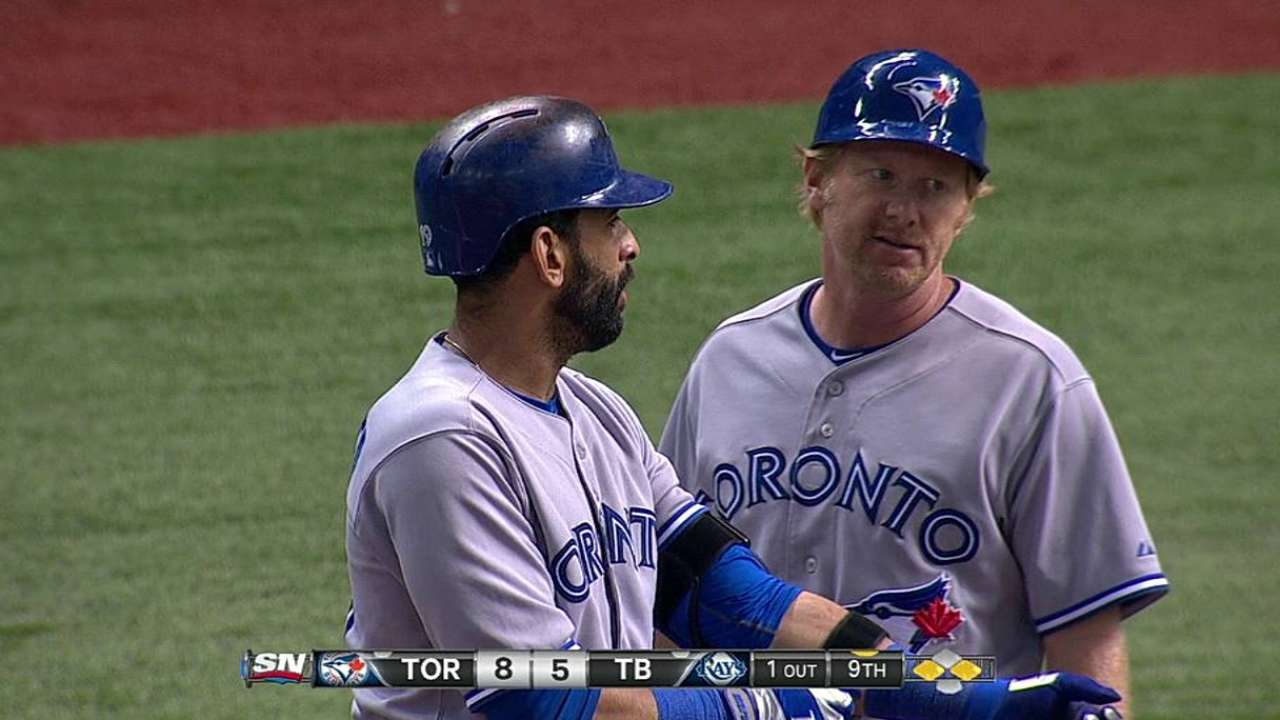 ST. PETERSBURG -- As Blue Jays manager John Gibbons hinted on Saturday, Jose Bautista returned to the outfield in Sunday's series finale against the Rays at Tropicana Field, Toronto's last game before the All-Star Break.
"I'm not gonna need a map to get back there," Bautista said. "I'm excited, glad to be back in that position."
Bautista hadn't played right since June 22, as he has been dealing with a balky left hamstring. In July, Bautista has played five games at designated hitter and six at first base, including the first two games of the series against the Rays.
Both Gibbons and Bautista said he had been healthy enough to play outfield since the beginning of the series, but the Blue Jays chose to keep him at first base until Sunday.
"Definitely feeling great physically -- I wouldn't say 100 percent yet, but definitely been ready for the outfield for a couple of days now," Bautista said. "No restrictions, no limitations. I'm good."
Gibbons had said that Bautista might play right field Sunday if the Blue Jays were facing a lefty, which would be a bad matchup for left-handed hitter Anthony Gose, who was called up from Triple-A Buffalo and started in right field on Saturday. David Price, Tampa Bay's scheduled pitcher, had been questionable with an illness, but he was able to make the start.
Sure enough, when the lineup card went up in the Toronto clubhouse, there was Bautista's name with a "9" next to it in the position slot.
Entering Sunday's game, Bautista was batting .292 with 17 home runs, 54 RBIs, and a league-leading .410 on-base percentage. He has been elected one of the three outfield starters for the American League in the 2014 All-Star Game, which is on Tuesday in Minnesota. Bautista said Friday that he was ready to play the outfield in the Midsummer Classic.
Tropicana Field can be an unusual stadium for outfielders with its protruding catwalks, but for Bautista, who has played in the American League East for much of his career, there are no issues.
Had Bautista been taking any fly balls or doing any outfield work to prepare for his return to right?
"No, but I don't need it," Bautista said. "I got it."
David Adler is an associate reporter for MLB.com. This story was not subject to the approval of Major League Baseball or its clubs.