Blue Jays prospects excel in Futures Game
Norris tosses scoreless frame for U.S. squad; Pompey goes 2-for-4 for World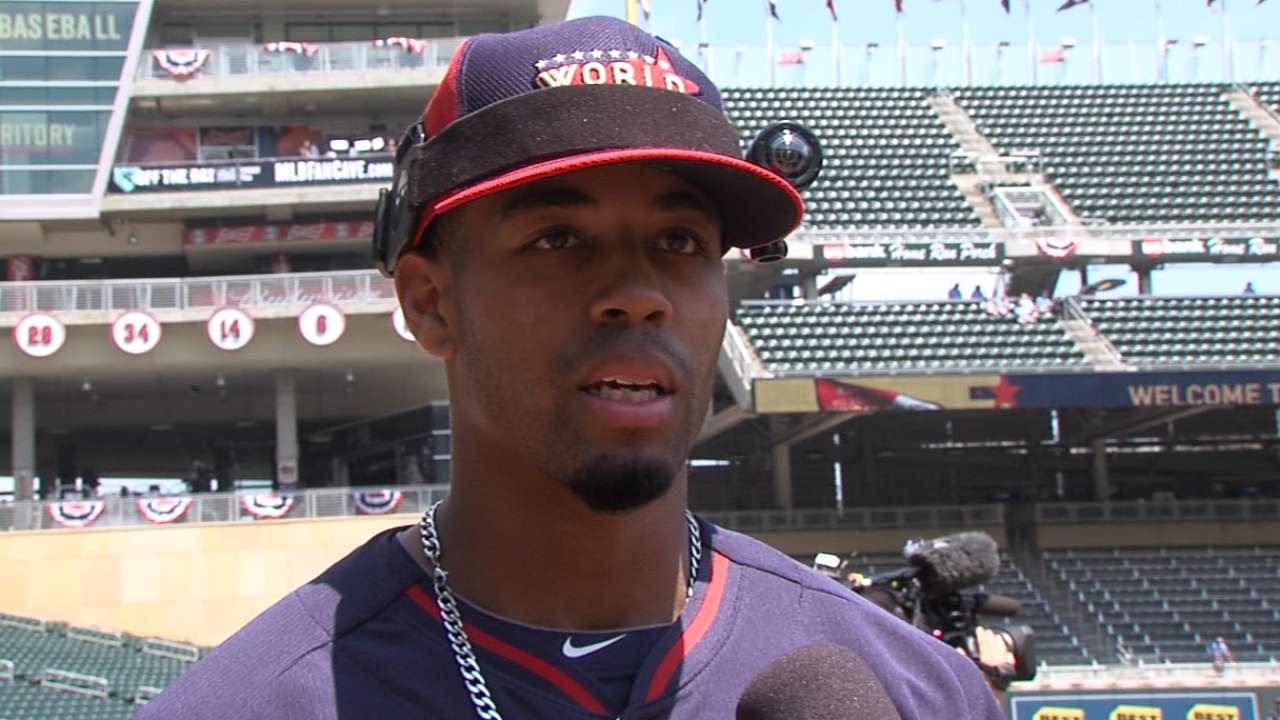 MINNEAPOLIS -- Two years after he could barely compete against hitters in Rookie League and Low Class A ball, Daniel Norris found himself in the midst of the best prospects in baseball on Sunday afternoon, pitching in the Sirius XM All-Star Futures Game.
For the Blue Jays' lefty prospect, ranked No. 3 in the system according to MLB.com, the chance to participate in a game like this was an example of how the adversity he went through earlier in his pro career helped lead to his turnaround.
"A lot of it has been the mental approach, just going out there and believing in yourself and trusting the hard work you've put in," said Norris, who was recently promoted to Double-A New Hampshire. "It definitely takes some time to come into my own and realize you've just got to trust your hard work and muscle memory and your stuff."
Norris, who once had some real command issues, looked like a man in complete control at the Futures Game.
Pitching the second inning for the U.S. Team, Norris retired all three batters he faced, inducing two groundouts and a strikeout. Of the 11 pitches he threw, seven were for strikes.
What did Norris learn from 2012, when he posted an 8.44 ERA?
"Nowadays, I know how to deal with failure," Norris said. "If I have a bad game, I've had those in the past so I know how to deal with it and not put so much weight into something so small. Now I know just to control what I can control and nothing more."
Dalton Pompey, another prospect Blue Jays fans are excited about, led off for the World Team on Sunday and went 2-for-4. After lacing a single up the middle to open the sixth, Pompey scored on a two-run homer by Javier Baez. In the eighth, Pompey singled to right and moved to second on a wild pitch.
The Ontario native continues to be driven by the chance to one day play for his hometown team.
"To have that opportunity is just really special," said Pompey, who was also recently promoted to Double-A. "I thank the Toronto Blue Jays for giving me that opportunity in 2010, giving a chance for a kid from Canada to wear the Blue Jays uniform. That would be unfathomable for me. I'm just working towards that goal, and hopefully I'll be able to play for my home town some day."
Pompey offers an exciting five-tool package, led by his speed.
"It helps me in the field," said Pompey. "It helps me when I'm up to bat. It helps me on the bases. 'Speed never slumps,' is what they say. It's a huge asset, and I try to use it to my ability as best I can."
Jays catching prospect A.J. Jimenez participated in his second straight Futures Game, going 0-for-1 while working four innings behind the plate.
Ian Browne is a reporter for MLB.com. Read his blog, Brownie Points, and follow him on Twitter @IanMBrowne. This story was not subject to the approval of Major League Baseball or its clubs.