Inbox: Why did Toronto stay silent at Deadline?
Beat reporter Gregor Chisholm answers Toronto fans' questions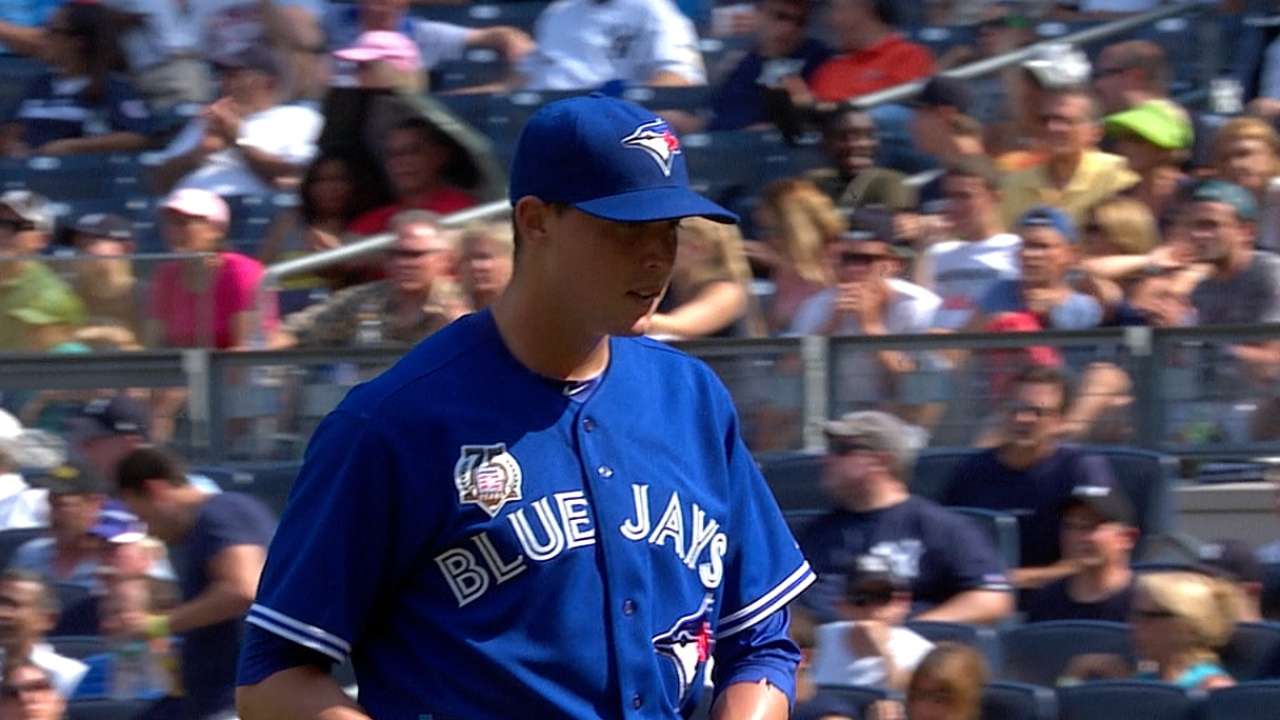 The Blue Jays haven't had an opportunity to make the postseason like this since 1993. But I thought they needed another starter, reliever and even a second baseman. Why didn't they make a move at the Deadline?
-- Tim C., Waterloo, Ontario
The lack of moves were related to both payroll and the high cost of prospects it would have taken to complete a deal. In this particular case, both of these things go hand in hand.
In terms of payroll, the Toronto Sun's Bob Elliott was the first columnist to report several weeks ago that the Blue Jays were telling opposing teams they couldn't take on additional salary. ESPN's Jayson Stark echoed those claims, and it certainly explains why the club wasn't in the market for someone like Arizona's Martin Prado , who has two years and $22 million remaining on his contract.
When it comes to other players it wasn't necessarily about money. The Blue Jays could have afforded a player like Andrew Miller -- who went from Baltimore to Boston -- but the two sides didn't line up on value. Toronto was never going to trade emerging pitchers like Aaron Sanchez and Marcus Stroman while it also highly values Daniel Norris and Dalton Pompey.
When you take those top prospects out of the mix, it's awfully difficult to make a deal. The vast majority of Toronto's depth can be found in the lower levels of the Minors. There isn't a lot of sought-after talent in the upper levels, and that impacts the type of offers the Blue Jays can make. In order to pull off a deal, a team needs to either have the money or the prospect capital, and in this particular case Toronto didn't have the necessary tools.
Jose Bautista and Casey Janssen seemed to cross the line in their comments about the front office not making a move at the Deadline. Do you think this will spill over and impact Toronto's performance on the field?
-- Michael W., Toronto, Ontario
It's true that Bautista and Janssen were very outspoken about the lack of moves at the Deadline but it's worth pointing out that neither player was speaking out of turn. Their views are shared by a lot of players inside the clubhouse, and because of their stature and service time within the organization, it just so happened that Bautista and Janssen were the ones in front of the microphones.
There was disappointment and even some frustration by Toronto's inability to improve the roster on July 31, but to think it will spill over onto the field is a little far-fetched. The players aren't going to lessen their effort just because a deal wasn't made, and the intention remains trying to secure a spot in the postseason. Anything less will be considered a failure not only by the organization but also the players.
I'm tired of hearing about what the Blue Jays didn't do at the Trade Deadline. What about the teams that made moves, who do you think improved the most?
-- Josh D., Ottawa, Ontario
It's hard to argue with what the Tigers and A's were able to accomplish. Adding David Price into a group that already included Max Scherzer , Anibal Sanchez and Justin Verlander is a major coup for a Detroit team that has aspirations of the World Series. The same could be said for the A's, who bolster a rotation of Jon Lester , Sonny Gray , Jeff Samardzija , Scott Kazmir and Jason Hammel.
For very different reasons, it's also easy to like what the Red Sox did at the deadline. Boston already has one of the top farm systems in baseball and it could have added to that future core but instead found a way to reload for 2015. Acquiring Yoenis Cespedes for Lester gives the club a valuable corner outfielder while moving John Lackey for Allen Craig and Joe Kelly was another coup.
I thought acquiring Danny Valencia from the Royals was a very underrated pickup by Alex Anthopoulos. How do you see him fitting in?
-- Bill W., Toronto, Ontario
Valencia was acquired to improve the Blue Jays' poor performance against left-handed pitching. Toronto's output against lefties will increase when Edwin Encarnacion and Brett Lawrie return from injury, but there was additional need for some help off the bench. Nolan Reimold goes a long way in strengthening the overall group.
It's reasonable to think Valencia will start at third base against lefties with Lawrie getting the nod at second. Reimold is a prime candidate to platoon with Lind at designated hitter under the same circumstances. Unlike Valencia, Reimold hits righties just as well as he does lefties, but when everyone's healthy, a platoon role is the only way he can get semi-regular playing time.
It seems like Lawrie, Encarnacion and Lind are all getting close to returning. When they're back, what type of changes will the Blue Jays make to their roster?
-- Scott D., London, Ontario
Toronto will have some very tough decisions when Lawrie, Lind and Encarnacion return. It's a good problem to have but also one that doesn't have an easy solution. Reimold, Valencia and back-up catcher Josh Thole all appear to have guaranteed jobs on the bench, which leaves two spots from a group that includes Juan Francisco, Munenori Kawasaki , Ryan Goins and Steve Tolleson .
One of those players would be inserted into the starting lineup while the other would remain on the bench. The other two will be on the outside looking in. A big part of this decision likely will come down to how Francisco performs over the next couple of weeks before Encarnacion returns. If Francisco hits well, he should secure the starting third base job vs. righties. If he doesn't, then both Goins and Kawasaki could stick around. Tolleson appears to be in a precarious spot, but since Kawasaki and Goins have options he could be spared.
My biggest concern with this team is still the rotation. Do you agree and do you think they will be able to last the season?
-- Jennifer Y., Charlottetown, Prince Edward Island
There's some legitimate concern about how the rotation is going to hold up over the final two months. Drew Hutchison barely pitched at all in 2013 because of Tommy John surgery, while Marcus Stroman is in is first full season as a starter. R.A. Dickey and Mark Buehrle are almost always guaranteed of hitting the 200-inning plateau but even J.A. Happ has already blown past the number of innings he threw a year ago.
Toronto isn't about to make any changes to its staff any time soon, so the starting five will have to find a way to get it done if this team is going to make the postseason. One potential saving grace can be found in the fact that the Blue Jays have five days off this month. The hope is those extra days will help the starters finish strong, and Hutchison is a candidate to skip a start during the upcoming three-city road trip through Seattle, Chicago and Milwaukee.
Let's get to the heart of the issue. Is this team good enough to make the playoffs?
-- Andrew G., Halifax, Nova Scotia
I haven't consulted with my Magic 8 ball so I'm not sure if I can give you a definitive answer. My personal opinion is that the Blue Jays have a very realistic shot at catching the Orioles in the AL East standings, and even if that doesn't happen, I think they should be the favorites for the second Wild Card spot.
Baltimore -- like Toronto -- still has a lot of question marks in the rotation and that's something the Orioles didn't address at the deadline. Baltimore holds the edge now, but I would expect this race to go down to the wire. The Angels have a clear advantage for the first Wild Card spot, but when the Blue Jays are matched up against teams like the Yankees, Mariners and Royals, I like their chances for the second spot.
If I had to predict right now, I'd say yes; this is the year Toronto finally ends its decades-long postseason drought. Once there, though, the competition will be incredibly tough with Oakland and Detroit as the frontrunners.
Gregor Chisholm is a reporter for MLB.com. Read his blog, North of the Border, and follow him on Twitter @gregorMLB. This story was not subject to the approval of Major League Baseball or its clubs.