Janssen willing to fill any role in Toronto's 'pen
Club is looking to use rookie Sanchez more often in late-inning situations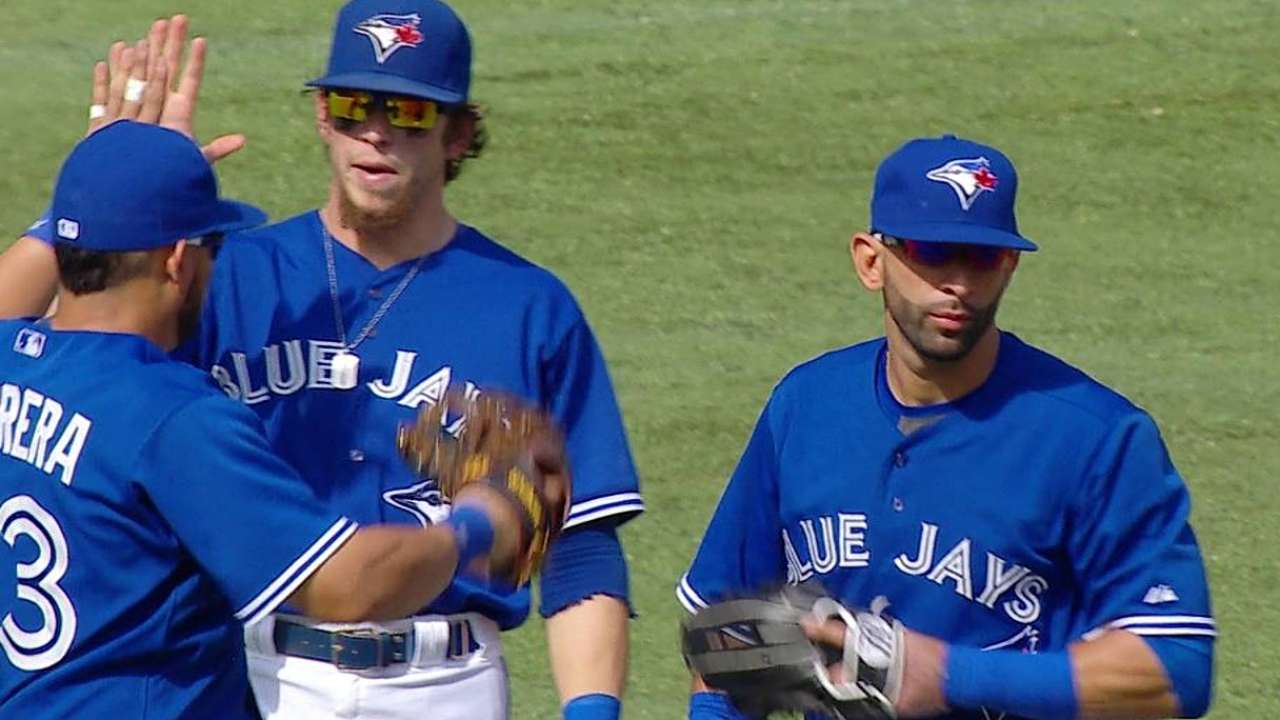 ST. PETERSBURG -- Casey Janssen may have at least partially lost his role as the Blue Jays' closer, but instead of complaining about it, all the veteran reliever wants to do is pitch.
Janssen and manager John Gibbons had a meeting following Wednesday night's 7-4 victory over Tampa Bay. During that conversation, Gibbons attempted to explain how the club plans to use rookie right-hander Aaron Sanchez the rest of the season and how that impacts Janssen.
There's still a lot of uncertainty about the bullpen roles, but what's crystal clear is that the Blue Jays no longer have a full-time closer. Janssen can't be too happy about that. But more than anything else, he wants to contribute, and if that means pitching earlier in the ballgame, that's fine with him.
"I would love to win a championship here," Janssen said. "However we can go about doing that, I'm all in for it. If there are days when the most important inning, or the inning he sees me fit best, is the sixth, seventh or eighth inning, I'm all for it. I want to pitch, I love to pitch, I love to close. I just want to show everyone what I can do and the pitcher I am every single time I go out there."
Janssen's apparent demotion from the closer's role has become a drawn-out process with multiple twists and turns along the way. It started a couple of weeks ago when Gibbons mentioned that Toronto would prefer to use Sanchez in two-inning stints and if he was brought in for the eighth, then he'd likely come back out for the ninth as well.
The problem is that plan didn't appear to be properly communicated to Janssen, who warmed up and was ready to come into the game when Sanchez picked up the first save of his career on Aug. 30. There was even more confusion on Wednesday night, when Sanchez didn't enter until the ninth to record another save.
Once again Janssen was relegated to the sidelines and the reason provided this time was that Sanchez had been warming up earlier in the game and the club didn't want to waste his availability. When pressed for answers on Thursday afternoon, Gibbons attempted to clarify and was quick to praise Sanchez: "I would say he's doing a pretty good job."
It's enough to make anyone's head spin, but for now, Janssen is saying all of the right things. He chose his words carefully during an afternoon scrum with reporters prior to Thursday's game, and while the save opportunities won't be as frequent as they were before, Janssen will still get some chances down the stretch.
Still, it has become rather apparent that Sanchez has become the priority over a player that has spent eight years with the organization and is about to hit free agency at the end of the year.
"It was a little confusing, I'm starting to get the grasp of it a little bit more," Janssen said. "Pretty much, I just have to be ready to pitch and make the most of every opportunity I get, and see where that takes me. Sanchez is a heck of a pitcher, he has thrown the heck out of the ball and right now we're just concerned with wins, and if he gives us the best chance to win, then we need him in the game."
Gregor Chisholm is a reporter for MLB.com. Read his blog, North of the Border, and follow him on Twitter @gregorMLB. This story was not subject to the approval of Major League Baseball or its clubs.